Hours between lunch and dinner have been vexing to industry
Chain is testing premium desserts in about 700 U.S. locations
To lure more mid-afternoon customers, McDonald's Corp. is rejecting its recent health-food kick and rolling out the sweets: croissants, muffin tops and a new sundae-topping station for ice cream lovers.
The challenge is daunting. The hours between lunch and dinner are a fast-food dead zone. Only about 5 percent of McDonald's customers show up at non-meal times such as 2 p.m. to 5 p.m., according to Peter Saleh, an analyst with BTIG in New York.
"You're going to have to give customers a real reason to come in during that off-peak hour," he said.
McDonald's has a lot riding on the initiative. At a time when its standing as the country's dominant fast-food restaurant has weakened -- its share of the market slipped to 15.1 percent last year from 17.5 percent five years earlier, according to Euromonitor -- Chief Executive Officer Steve Easterbrook has identified snacking and coffee as "underdeveloped opportunities" that could spur growth. The goal is to "bring the casual customer in the door more often," Easterbrook said at an investor conference in May.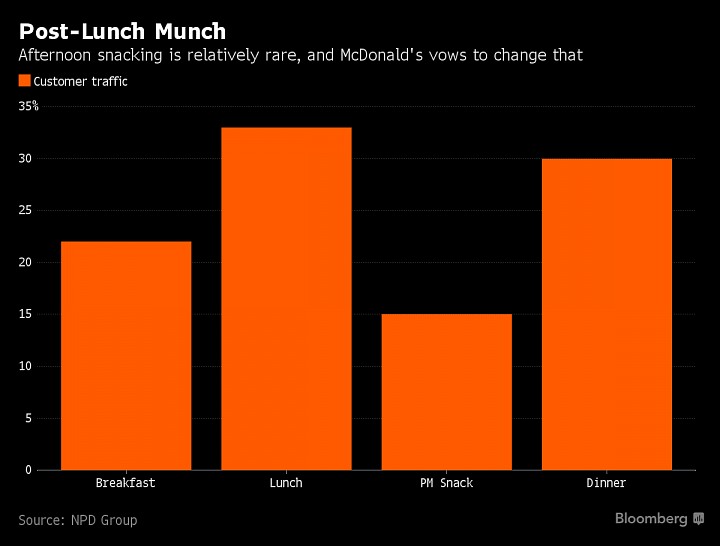 McDonald's $1 and $2 drink specials are hurting others in the industry, according to Dunkin' Brands Group Inc. CEO Nigel Travis, who...
More