Aduro BioTech, Inc. ADRO reported third-quarter 2017 loss of 33 cents per share, in line with the Zacks Consensus Estimate but narrower than the year-ago loss of 54 cents per share.
Quarterly revenues fell 2.4% year over year to $3.7 million. The top line also missed the Zacks Consensus Estimate of $4.18 million. In July, the company recognized a milestone payment of $2 million from Merck & Co MRK related to development of Aduro's anti-CD27 antibody.
Aduro's shares have underperformed the industry so far this year. The stock has declined 30.3% while the industry registered an increase of 3.3%.
Research and development expenses showed a substantial increase of 28.4% in the quarter to $24.5 million, mainly due to an increase in costs related to manufacturing of B-select antibodies and higher facility related costs.
General and administrative expenses were $8.5 million, down 1.1% year over year due to lower consulting and professional fees.
Pipeline Update
Aduro has a broad pipeline of novel immunotherapies under development for the treatment of a variety of cancers.
The company initiated a phase I study in September to evaluate personalized live, attenuated double-deleted Listeria monocytogenes (pLADD)-based immunotherapy. The immunotherapy, which uses patient-specific antigens, will be studied in patients with microsatellite stable metastatic colorectal cancer. Aduro's most advanced LADD candidate, CRS-207, is being evaluated in combination with Bristol-Myers Squibb Company's BMY Opdivo in two separate phase II studies for gastric cancer and mesothelioma. Data from mesothelioma study is expected by the end of this year.
Meanwhile, the company initiated a phase Ib study to evaluate its STING pathway activator, ADU-S100, in combination with Novartis AG's NVS PD-1 checkpoint inhibitor, PDR001, for treating solid tumors and lymphomas.
During the quarter, Aduro announced that the FDA has cleared the investigational new drug application ("IND") for anti-APRIL antibody, BION-1301. The company expects to initiate a phase I study by 2017.
Aduro Biotech, Inc. Price, Consensus and EPS Surprise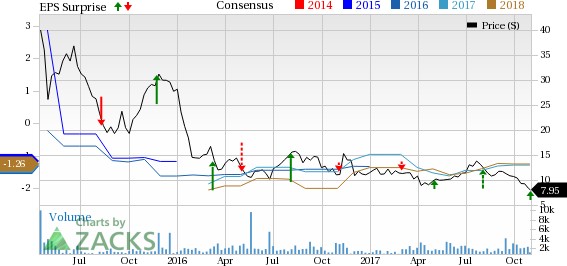 Aduro Biotech, Inc. Price, Consensus and EPS Surprise | Aduro Biotech, Inc. Quote
Zacks Rank
Aduro currently carries a Zacks Rank #3 (Hold). You can see the complete list of today's Zacks #1 Rank (Strong Buy) stocks here.
More Stock News: This Is Bigger than the iPhone!
It could become the mother of all technological revolutions. Apple sold a mere 1 billion iPhones in 10 years but a new breakthrough is expected to generate more than 27 billion devices in just 3 years, creating a $1.7 trillion market.
Zacks has just released a Special Report that spotlights this fast-emerging phenomenon and 6 tickers for taking advantage of it. If you don't buy now, you may kick yourself in 2020.
Click here for the 6 trades >>
Want the latest recommendations from Zacks Investment Research? Today, you can download 7 Best Stocks for the Next 30 Days.
Click to get this free report
Bristol-Myers Squibb Company (BMY): Free Stock Analysis Report
Novartis AG (NVS): Free Stock Analysis Report
Merck & Company, Inc. (MRK): Free Stock Analysis Report
Aduro Biotech, Inc. (ADRO): Free Stock Analysis Report
To read this article on Zacks.com click here.
Zacks Investment Research