Yesterday, I noted a potential breakout in EUR/CAD as it knocked against a cluster of key resistance factors.
EUR/CAD in a potential breakout

EUR/CAD 4H Chart 7/28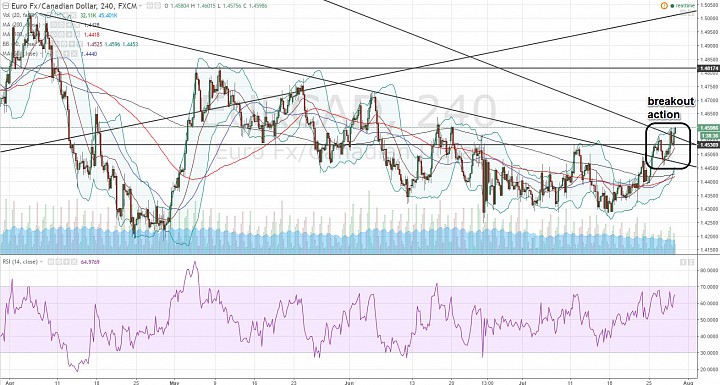 (click to enlarge)
Broken resistance:
- As price pushes above 1.4550, EUR/CAD cleared a flat resistance and previous July high. 
- Price also broke above a couple of falling speedlines. 
- The bullish breakout looks exposes EUR/CAD to the 1.4815-20 highs. 
- The most aggressive bullish outlook from this breakout should be limited to 1.50. 
- We might see some resistance around 1.46.
- If we do see a retreat let's see if the market will use 1.45 as support. If so, the near-term bullish outlook would be 1.47 with 1.4815-1.4820 in sight in the short to medium-term.
- For now, let's just focus on this 1.48-1.4820 target area. 
- The 1.50 target might be a bit premature right now, but if this 1.45-1.46 area shows support a couple more time, then the prospect of EUR/CAD going to 1.50 would improve. 

Impetus for upside:
- The dominant force in the EUR/CAD at the moment is the weak Canadian Dollar.
- Weak oil price should continue to support EUR/CAD.
- We also will have CAN GDP data for the month of May. It is expected to fall: -0.5% vs. April. 
- I am pretty sure the market has already priced in this weak GDP data for the most part, but seeing it official could help extend EUR/CAD higher at least in the short-term.
- If the GDP data is as expected or worse and oil prices continue to dip, the EUR/CAD should continue towards the 1.48 area.