Public Storage's PSA third-quarter 2017 core funds from operations (FFO) per share of $2.61 marked a 3.2% growth from the prior year quarter figure of $2.53. The Zacks Consensus Estimate was $2.60.

Results mirror an improvement in net operating income (NOI) from both same-store and non-same store facilities. Higher realized annual rent per occupied square foot supported the company's same-store performance. Also, Public Storage benefited from its expansion efforts.

Quarterly revenues of $686.4 million also climbed 3.5% from the prior year quarter. The Zacks Consensus Estimate for the same was $685 million.
Public Storage Price, Consensus and EPS Surprise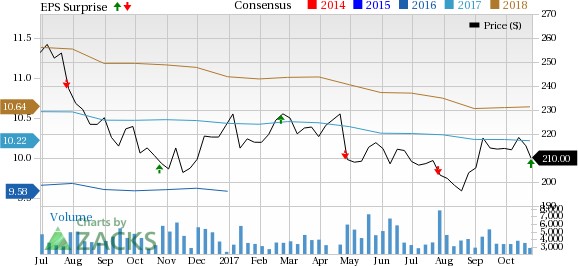 Public Storage Price, Consensus and EPS Surprise | Public Storage Quote
Note: The EPS numbers presented in the above chart represent funds from operations ("FFO") per share.

Moreover, the company recorded a total $7.8 million casualty loss because of damaged buildings and equipment, together with expenses for repairs, cleanup, and disposal. Further, it anticipates incurring around $10.0 million of capital expenditures for completion of the hurricane-damage repair. The loss projections are below its insurance deductibles.

Behind the Headlines

Same-store revenues advanced 2.4% year over year to $564.4 million during the third quarter, while the company's NOI climbed 2.6% to $416.9 million. The increase in same-store revenues was primarily driven by a 3.4% rise in realized annual rental income per occupied square feet to $17.52. However, the weighted-average square foot occupancy of 94.5% contracted 80 basis points year over year.

In addition, the company's NOI from non-same store facilities grew on the back of the 321 self-storage facilities acquired, developed or expanded since January 2015.

Portfolio Activity

In the reported quarter, Public Storage bought seven self-storage facilities, comprising 0.4 million net rentable square feet, for $47.3 million. Following the quarter end, the company acquired or was under contract to acquire eight self-storage facilities, spanning 0.5 million net rentable square feet of space, for $67.8 million.

Finally, as of Sep 30, 2017, the company had several facilities in development (2.8 million net rentable square feet), with an estimated cost of $365 million, as well as expansion projects (1.9 million net rentable square feet) worth roughly $235 million. Public Storage estimates to incur the remaining $378 million of development costs related to these projects mainly over the next 18 months.

Liquidity

Public Storage exited third-quarter 2017 with around $694.2 million of cash and cash equivalents, up from $183.7 million recorded at the end of the prior year.

Dividend

On Oct 25, Public Storage's board of trustees announced a regular quarterly dividend of $2.00 per share. The amount will be paid on Dec 28 to shareholders of record as of Dec 13, 2017.

In Conclusion

Public Storage is one of the largest owners and operators of storage facilities in the United States. The company's acquisition and expansion efforts look promising. Nevertheless, rising supply in a number of its markets is a headwind. Rate hike also remains a concern for the company.

Public Storage currently has a Zacks Rank #3 (Hold). You can see the complete list of today's Zacks #1 Rank (Strong Buy) stocks here.

In addition, the stock has declined 6.1% year to date, underperforming 2.0% growth registered by the industry it belongs to.





We now look forward to the earnings releases of AvalonBay Communities, Inc. AVB, Alexandria Real Estate Equities, Inc. ARE and Extra Space Storage Inc. EXR, all of which are expected to report their numbers next week.

Note: FFO, a widely used metric to gauge the performance of REITs, is obtained after adding depreciation and amortization and other non-cash expenses to net income.

Looking for Stocks with Skyrocketing Upside?

Zacks has just released a Special Report on the booming investment opportunities of legal marijuana.

Ignited by new referendums and legislation, this industry is expected to blast from an already robust $6.7 billion to $20.2 billion in 2021. Early investors stand to make a killing, but you have to be ready to act and know just where to look.

See the pot trades we're targeting>>
Want the latest recommendations from Zacks Investment Research? Today, you can download 7 Best Stocks for the Next 30 Days.
Click to get this free report
AvalonBay Communities, Inc. (AVB): Free Stock Analysis Report
Public Storage (PSA): Free Stock Analysis Report
Extra Space Storage Inc (EXR): Free Stock Analysis Report
Alexandria Real Estate Equities, Inc. (ARE): Free Stock Analysis Report
To read this article on Zacks.com click here.
Zacks Investment Research