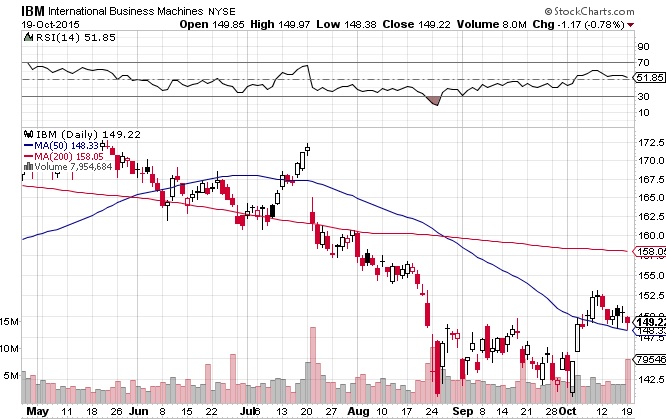 International Business Machines Corp posted a bigger-than-expected drop in revenue and cut its full-year profit forecast, as a stronger U.S. dollar accentuated weakness in demand from China and emerging markets.
IBM's net income from continuing operations fell to $2.96 billion, or $3.02 per share, from $3.46 billion, or $3.46 per share, a year earlier.Consolidated net income rose to $2.95 billion, or $3.01 per share, from $18 million, or 2 cents per share, a year earlier.
Last year profit was hurt by non recurring pre-tax charge of $3.3 billion, net of tax, for discontinued operations.
Excluding items, IBM earned $3.34 per share from continuing operations in the latest quarter, beating the average analyst estimate of a profit of $3.30 per share.
The company's total revenue fell 13.9 percent to $19.28 billion in the quarter, below analysts' average forecast of $19.62 billion.
IBM lowered its full-year 2015 operating profit forecast to a range of $14.75 to $15.75 per share from $15.75 to $16.50. Analysts on average were expecting $15.68, according to Thomson Reuters I/B/E/S.
Today shares of IBM may fall. But what would you advise for a long-term period?