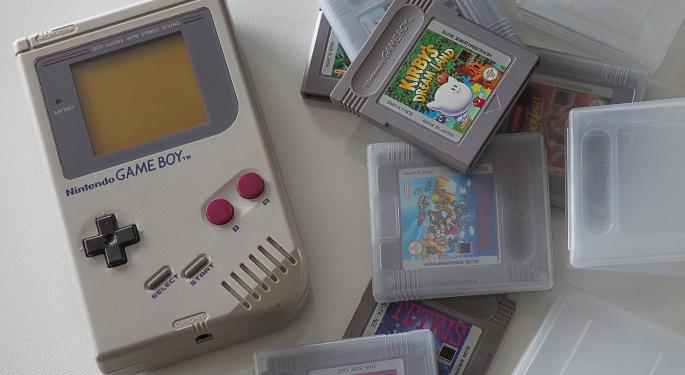 If you haven't already done your holiday shopping, this is the time of year where the most popular items can start disappearing from store shelves. This year, two of the fastest-selling holiday toys are Spin Master's Hatchimals and Nintendo Co., LTD (ADR) (OTC: NTDOY)'s NES Classic.
Hatchimals are interactive toys that begin as eggs and eventually hatch into furry creatures, grow and learn if properly cared for.
The NES Classic is a mini reboot of the popular Nintendo gaming system that comes with 30 classic games, including "Super Mario Bros." and "Ninja Gaiden."
Ebates.com recently came up with a list of the most popular and hard-to-find holiday toys of the past 35 years. Here's a look at a sampling of some of the most popular toys in recent decades.
Cabbage Patch Kids (1983)
Customers were forced to wait in line for hours to buy these popular dolls during the holiday season. Between 1978 and 1985, Cabbage Patch Kids dolls generated $600 million in sales.
Teddy Ruxpin (1985)
The talking teddy bear was marketed as "the world's first animated talking toy." The toys were so hard to come by during the 1985 holiday season that shoppers were often forced to pay double or triple the typical retail price to get their hands on one.
Game Boy (1989)
Nintendo instantly sold more than 1.1 million Game Boys, making the device one of the most popular electronic gaming devices of all time. The Game Boy was inducted into the National Toy Hall of Fame in 2009.
Beanie Babies (1995)
Ty Warner masterfully created demand for its bean-filled toys by arbitrarily removing certain varieties from the market, creating shortages for collectors. Reports of Beanie Babies fights breaking out in toy stores were common in the mid-1990s.
Tickle Me Elmo (1996)
The talking Elmo doll was a surprise hit, meaning it quickly became extremely hard to find. Shoppers even resorted to fistfights over the dolls and paid hundreds of dollars to re-sellers.
Tamagotchi (1997)
These handheld virtual pets flew off the shelves during the 1997 holiday season. At one point, U.S. retailers sold an average of 15 Tamagotchis per minute.
Furby (1998)
Shoppers paid as much as $400 for the $35 electronic toys during the 1998 holiday season. The CEO of Egift described the period as "Furby hell" due to the overwhelming demand for the toy.
Pokemon (1999)
Nearly 20 years prior to this year's Pokemon GO craze, the original wave of Pokemon trading cards and other merchandise swept through the country during the 1999 holiday season. Even Burger King got caught in the Pokemon phenomenon when it ran out of Pokemon toys during a holiday season promotion.
Bratz (2001)
These teen fashion dolls were so popular during the 2001 holiday season that they eclipsed Barbie as the top-selling girls toy that year. Despite the toy's popularity, some parents criticized Bratz for their provocative outfits and thin bodies.
Nintendo Wii (2008)
The revolutionary Nintendo Wii was the most interactive gaming system in history and sold 10 million units in 2008. Not surprisingly, it was one of the hottest holiday gifts of the year as well.
© 2016 Benzinga.com. Benzinga does not provide investment advice. All rights reserved.
Source