We are almost halfway through the third-quarter earnings season, which portrays a pretty favorable picture. Of the notable factors influencing this season are rising momentum on the revenue front is noteworthy.

Further, the above-average proportion of positive earnings surprises has been maintained in the quarter and the estimate revision trend for the December quarter is also favorable. Additionally, the overall third-quarter earnings for the S&P 500 index remains on track to reach a new all-time quarterly record by beating the previous earnings season's record.

Per the Earnings Preview dated Oct 27, nearly 272 S&P 500 members have already reported their results. Of these, approximately 75.7% delivered positive earnings surprises, while 66.2% beat top-line expectations. Notably, earnings for these companies have advanced 8.7% from the same period last year, with revenues up 6.7%.

For the third quarter as a whole, total earnings for the S&P 500 index are projected to improve 5.4% year over year on 5.5% growth in revenues.

A Look at Consumer Staples Sector

Agriculture and food stocks form part of the Consumer Staples sector. Markedly, the sector is on growth trajectory since the start of the current year, supported by buoyant economy and improving consumer confidence despite a competitive landscape and geopolitical turmoil.

In fact, we note that the performance of the index depends upon all 16 Zacks sectors, out of which nine sectors are expected to witness an earnings decline in the third quarter. However, the Consumer Staples sector is likely to witness 2.6% and 1.9% growth in earnings and revenues, respectively. Also, a Zacks Sector Rank of #6 (out of 16), places the sector at the top 38% of the Zacks classified sectors. Evidently, the sector has gained 7.9% year to date, lower than the S&P 500's growth of 15.4%.

Our research shows that when a Zacks Rank #1 (Strong Buy), 2 (Buy) or 3 (Hold) stock is combined with a positive Earnings ESP, the chance of beating earnings estimates is high. You can uncover the best stocks to buy or sell before they're reported with our Earnings ESP Filter .

That said, let's see what awaits the couple of stocks that are slated to report third-quarter 2017 earnings on Oct 31.

Archer-Daniels-Midland Company ADM expects exports from Argentine to continue to affect margins at the Oilseeds segment in the third quarter, when the global environment is anticipated to remain highly competitive. The Zacks Consensus Estimate for operating profit in the Oilseeds Processing segment is pegged at $210 million.

Also, the overall Agricultural Services results are anticipated to be down in the quarter in comparison to the last year. Further, the fluctuating commodity prices, oversupply in the industry and unfavorable margins have also been denting its overall results.
Archer-Daniels-Midland Company Price, Consensus and EPS Surprise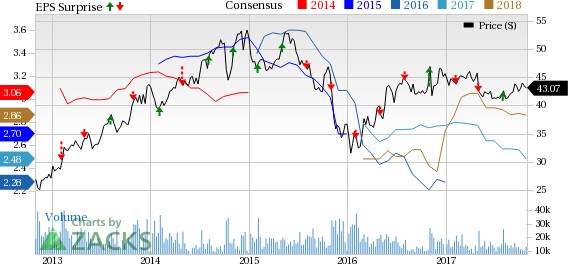 Archer-Daniels-Midland Company Price, Consensus and EPS Surprise | Archer-Daniels-Midland Company Quote
Our proven model does not conclusively show that Archer Daniels is likely to beat earnings estimates this quarter as the company has an Earnings ESP of -3.39%. Though the company's Zacks Rank #3 increases the predictive power of earnings, we need to have a positive ESP to be confident of a beat.

You can see the complete list of today's Zacks #1 Rank stocks here.
Further, revenues are expected to be $15.6 billion for the quarter, down 1.3% from the year-ago period. This means that the company's more than three-year long dismal revenue surprise is likely to continue in the to-be reported quarter as well.

Nevertheless, the company is ahead of track with its 2017 run-rate savings goal of $225 million. Therefore, management remains confident of achieving strong year-over-year earnings growth in 2017. (Read: Will Oilseeds Segment Hurt Archer Daniels Q3 Earnings?)

Kellogg Company K is the leading manufacturer and marketer of ready-to-eat cereals and convenience foods, and savory snacks. It has been witnessing decline in revenues for the last two years primarily due to lower demand. In particular, weak performance by its cereal products in developed markets as well as soft U.S. snacks business have been negatively impacting the company's performances. Additionally, the company has been struggling due to the shift in consumer preference toward natural and organic ingredients over packaged and processed food.

Nevertheless, given the tepid sales growth, Kellogg is making aggressive efforts toward improving its food offerings. In sync with this, the company is investing in brand building, in-store capabilities along with product and packaging innovation. In the second half of 2017, its sales are expected to somewhat benefit from innovation and Pringles' improved performance in Europe. (Read: Will Lower Sales Adversely Impact Kellogg's Q3 Earnings?)
Further, Kellogg has an Earnings ESP of +0.50% with a Zacks Rank #3, which makes us confident of an earnings beat. Also, total revenue for the quarter is pegged at $3.2 billion, down 1.2% year over year.

While, the Zacks Consensus Estimate for the company's total North America segment's revenues is projected to move down 0.04%, Europe revenues are likely to decrease 0.01% in the third quarter. However, the same for Latin America and Asia Pacific revenues are likely to increase 0.2% and 0.03%, respectively.

Zacks' Best Private Investment Ideas

While we are happy to share many articles like this on the website, our best recommendations and most in-depth research are not available to the public.

Starting today, for the next month, you can follow all Zacks' private buys and sells in real time. Our experts cover all kinds of trades… from value to momentum . . . from stocks under $10 to ETF and option moves . . . from stocks that corporate insiders are buying up to companies that are about to report positive earnings surprises. You can even look inside exclusive portfolios that are normally closed to new investors.

Click here for Zacks' private trades >>
Want the latest recommendations from Zacks Investment Research? Today, you can download 7 Best Stocks for the Next 30 Days.
Click to get this free report
Kellogg Company (K): Free Stock Analysis Report
Archer-Daniels-Midland Company (ADM): Free Stock Analysis Report
To read this article on Zacks.com click here.