Shares of Snap-on will reach $175 within a month

31 july 2015
Snap-on Incorporated, a US-based manufacturer of tools and equipment for automotive service industry, posted healthy second-quarter 2015 financial results. Revenues increased 3.1% y-o-y to $851.8 mn, mostly in line with expectations. Excluding acquisition related expenses and foreign currency translation effects, organic sales growth was 8.4%. As per the segments, the Snap-on Tools Group segment revenues improved 8% to$398.7 mn, driven by significant gains in both the US and international franchise operations, and the Commercial & Industrial Group segment sales increased 3% to $295.8 mn. The Repair Systems & Information segment recorded a sales decline of 0.4% to $277.4 mn. Nevertheless, organic sales were up 3.3% on the back of continued higher sales to OEM dealerships and rise in sales of diagnostic and repair information products as well as undercar equipment.
Operating income before financial services for the second quarter rose 9.2% y-o-y to $150.8 mn, and operating margin improved 100 basis points to 17.7%. In Q2, effective income tax rate was 32% compared to 32.9% in 2014. Adjusted earnings per share jumped 12.8% y-o-y to $2.03 and surpassed consensus estimate of $1.97.
In 2015, Snap-on plans to progress with its initiatives meant for coherent growth such as vehicle repair garage expansions, enhancement of franchise network and spreading footprints across critical industries as well as emerging markets. Owing to these initiatives, Snap-on projects to incur capital expenditures in the range of $80-90 mn this year. Besides, the company expects effective income tax rate for 2015 to be at or below its 2014 rate.
In my opinion, Snap-on's shares look nice for medium-term investment. Target price is $175.
<!== INSTRUMENT %% %60% ==!>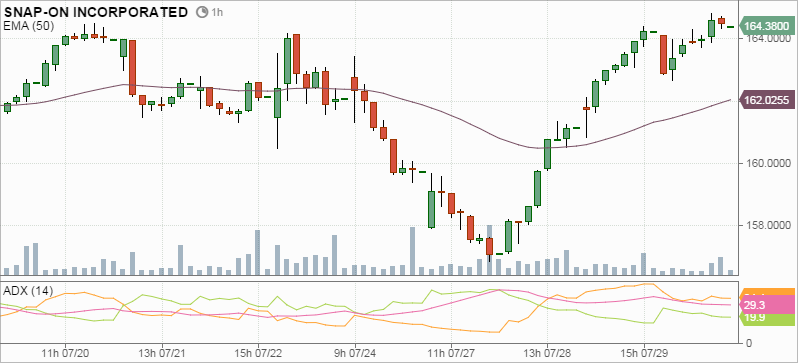 Voting is over
Waiting for


the right answer