Foreign pilots offered $318,000 packages to ease shortage
'Almost unlimited' demand for pilots among domestic carriers
Chinese airlines need to hire almost 100 pilots a week for the next 20 years to meet skyrocketing travel demand. Facing a shortage of candidates at home, carriers are dangling lucrative pay packages at foreigners with cockpit experience.
Giacomo Palombo, a former United Airlines pilot, said he's being bombarded every week with offers to fly Airbus A320s in China. Regional carrier Qingdao Airlines promises as much as $318,000 a year. Sichuan Airlines, which flies to Canada and Australia, is pitching $302,000. Both airlines say they'll also cover his income tax bill in China.
"When the time to go back to flying comes, I'll definitely have the Chinese airlines on my radar," said Palombo, 32, now an Atlanta-based consultant for McKinsey & Co. who said he was speaking in his personal capacity and not his employer's. "The financials are attractive."
Air traffic over China is set to almost quadruple in the next two decades, making it the world's busiest market, according to Airbus Group SE. Startup carriers barely known abroad are paying about 50 percent more than what some senior captains earn at Delta Air Lines, and they're giving recruiters from the U.S. to New Zealand free rein to fill their captains' chairs.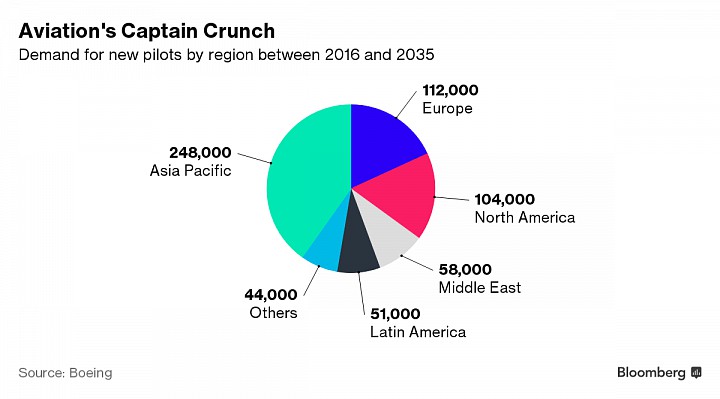 With some offers reaching $26,000 a month in net pay, pilots from emerging markets including Brazil and Russia can quadruple their salaries in China, said Dave Ross, Las Vegas-based president of Wasinc International. Wasinc is recruiting for more than a dozen mainland carriers, including Chengdu Airlines, Qingdao Airlines and Ruili Airlines.
'Almost Unlimited'
"When we ask an airline, 'How many pilots do you need?,' they say, 'Oh, we can take as many as you bring,"' Ross said. "It's almost unlimited."
Spokesmen for Qingdao and Sichuan declined to comment. A Chengdu Airlines spokesman didn't reply to faxed questions sent at his request.
Recruits preferring to live outside China earn a bit less but are offered free flights home to visit family members. Also on the...
More