Defense behemoth General Dynamics Corp.'s GD business division, Electric Boat, recently secured a modification contract from the U.S. Navy to continue the design support requirements of a previously awarded contract for Columbia-class nuclear submarine.

Contract Details

The contract is valued at $32.7 million. It was awarded by the Naval Sea Systems Command, Washington, D.C.

Per the modification, Electric Boat will provide services for shipbuilder and vendor technology development; engineering integration; concept design studies; cost reduction initiatives using a design for affordability process; and full scale prototype manufacturing and assembly. The work for this contract will also cover engineering analysis, should-cost evaluations and technology development and integration efforts.

Work is scheduled to be completed by Jun 2017.  Majority of the work will be carried out in Groton, CN; while the rest will be performed in Newport News, VA; Quonset, RI; and Bath, ME. The contract will use fiscal 2017 shipbuilding and conversion.

A Brief Note on Columbia-class Submarine

The Columbia-class submarine program, formerly known as the Ohio replacement submarine program, was designed by the Navy to replace its existing force of 14 Trident-armed Ohio-class ballistic missile submarines with a new class of 12 ballistic missile submarines (SSBNs). Originally built by Electric Corp., the Columbia-class submarines are also operated by the U.K., Russia, China, France and India.

Under the Navy's Submarine Unified Build Strategy (SUBS), the Columbia-class submarines will be jointly constructed by General Dynamics' Electric Boat and Huntington Ingalls Industries Inc.'s HII Newport New division. However, the Navy has requested General Dynamics to continue as the prime contractor for designing and building the Columbia-class boats. In fact, the company has been performing 77–78% of the shipyard work.

Currently, the Navy's proposed fiscal 2017 budget requests $773.1 million in advance procurement (AP) funding and $1,091.1 million in research and development funding for the Columbia-class program.

Why General Dynamics?

As one of the only two contractors in the world equipped to build nuclear-powered submarines, General Dynamics enjoys a dominant position as a Navy contractor. Apart from this, the company continues to be a prime contractor for the development of Virginia-class submarines (another class of nuclear-powered submarine), with Huntington acting as the subcontractor.

Given the Navy's recent acknowledgement of the Columbia-class program as its top priority, the huge budget allotted to the same, and General Dynamics being as the prime contractor, the modification contract will undoubtedly render the company a leading position in the nuclear-powered submarine industry.

Price Movement

General Dynamics's stock rallied about 37.7% in the last one year, outperforming the Zacks categorized Aerospace/Defense industry's gain of 22.6%. This could be because General Dynamics consistently maintains a strategic alliance with the U.S. Department of Defense, which allows it to enjoy a steady flow of contracts. Moreover, the stock's performance is in line with its peers like Boeing Co. BA and Engility Holdings, Inc. EGL keep up their industry-leading performance.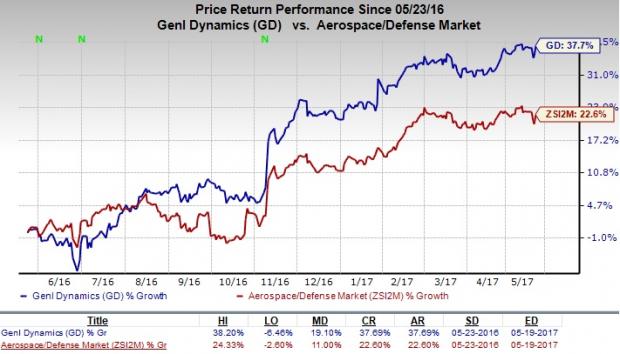 Zacks Rank

General Dynamics currently has a Zacks Rank #3 (Hold). You can see the complete list of today's Zacks #1 Rank (Strong Buy) stocks here.

Zacks' 2017 IPO Watch List

Before looking into the stocks mentioned above, you may want to get a head start on potential tech IPOs that are popping up on Zacks' radar. Imagine being in the first wave of investors to jump on a company with almost unlimited growth potential? This Special Report gives you the current scoop on 5 that may go public at any time.

One has driven from 0 to a $68 billion valuation in 8 years. Four others are a little less obvious but already show jaw-dropping growth. Download this IPO Watch List today for free >>
Want the latest recommendations from Zacks Investment Research? Today, you can download 7 Best Stocks for the Next 30 Days.
Click to get this free report
Boeing Company (The) (BA): Free Stock Analysis Report
General Dynamics Corporation (GD): Free Stock Analysis Report
Huntington Ingalls Industries, Inc. (HII): Free Stock Analysis Report
Engility Holdings, Inc. (EGL): Free Stock Analysis Report
To read this article on Zacks.com click here.
Zacks Investment Research