Clovis Oncology, Inc. CLVS reported second-quarter 2017 loss of $1.29 per share, which was narrower than the year-ago loss of $2.07 per share. The reported loss was however wider than the Zacks Consensus Estimate of a loss of $1.27.
Clovis' PARP inhibitor, Rubraca (rucaparib) received accelerated approval from the FDA in Dec 2016 for the treatment of advanced ovarian cancer in patients who have been treated with two or more chemotherapies. The drug is the only marketed product in its portfolio.
Net product revenues, entirely from Rubraca, were approximately $14.6 million in the quarter, up 108.6% sequentially and also beat the Zacks Consensus Estimate of $12.54 million. The company registered 750 new patients in the quarter.
In the year-ago quarter, Clovis did not generate any revenues.
The company's shares rose 1.36% in after-market trading on Wednesday. The stock has significantly outperformed the industry, having surged 83.7% this year so far while the industry rose 10%.

Quarter in Detail
During the reported quarter, research & development expenses decreased 51.1% year over year to $33.1 million, primarily due to decreased development activities related to Rubraca and rociletinib programs. General and administrative (G&A) expenses increased 276% year over year to $36.1 million, reflecting increased activities to support commercialization of Rubraca.
Cash used in operating activities in the quarter was $69.1 million, slightly more than million in the year-ago quarter.
The company ended the quarter with $671.5 million of cash equivalents and available-for-sale securities supported by the proceeds raised through share offerings in January and June.
Update on Rubraca
In order to convert the accelerated approval to a continued approval, Clovis is running confirmatory studies.
In Jun 2017, the company announced promising progression-free survival (PFS) and safety results from the pivotal maintenance confirmatory study, ARIEL3. It demonstrated that its PARP inhibitor, Rubraca has a meaningful impact in delaying disease recurrence in advanced ovarian cancer patients.
Clovis intends to submit a supplemental new drug application (sNDA) for label expansion of Rubraca in second-line or later maintenance indication for advanced ovarian cancer by October this year. The company believes that the label expansion is expected to increase patient population by at least four times.
Meanwhile, Rubraca is also under review in the EU for a comparable ovarian cancer indication. Clovis expects EU approval in the first quarter of 2018 and is establishing the commercial infrastructure for the same. The company also has plans to submit a supplemental application for the second-line or later maintenance treatment indication in EU, if the drug is approved for ovarian cancer.
Another phase III confirmatory study, ARIEL4 is evaluating Rubraca versus chemotherapy in patients who have failed two prior lines of therapy and is open for enrolment.
Meanwhile, Clovis is looking to expand Rubraca's label into additional indications like prostrate, breast and pancreatic cancers, among others, either as monotherapy or in combination with other agents. Earlier this week, the company collaborated with Bristol-Myers Squibb BMY to evaluate the Rubraca - Opdivo combination study in ovarian, breast and prostate cancer.
Several clinical studies were initiated in early 2017, including TRITON2 and TRITON3 in prostate cancer and a Tecentriq- Rubraca combination study in gynecologic cancers, which is sponsored by Roche Holding AG RHHBY.
Clovis Oncology, Inc. Price, Consensus and EPS Surprise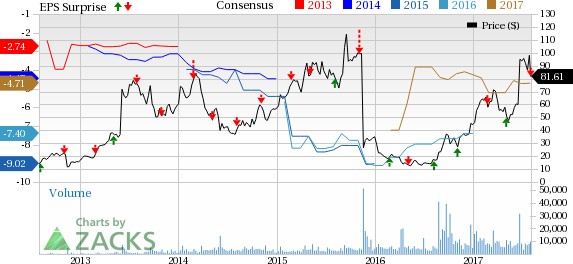 Clovis Oncology, Inc. Price, Consensus and EPS Surprise | Clovis Oncology, Inc. Quote
Zacks Rank & Key Picks
Clovis carries a Zacks Rank #3 (Hold) stock. A better-ranked stock in the health care sector is Arena Pharmaceuticals, Inc. ARNA, which carries a Zacks Rank #2 (Buy). You can see the complete list of today's Zacks #1 (Strong Buy) Rank stocks here.
Arena Pharma' loss per share estimates narrowed from $2.94 to $2.86 for 2017 over the last 30 days. The company delivered positive earnings surprises in two of the four trailing quarters with an average beat of 73.46%. The company's shares are up 70.1% so far this year. The company is scheduled to report on Aug 8.
More Stock News: Tech Opportunity Worth $386 Billion in 2017
From driverless cars to artificial intelligence, we've seen an unsurpassed growth of high-tech products in recent months. Yesterday's science-fiction is becoming today's reality. Despite all the innovation, there is a single component no tech company can survive without. Demand for this critical device will reach $387 billion this year alone, and it's likely to grow even faster in the future.
Zacks has released a brand-new Special Report to help you take advantage of this exciting investment opportunity. Most importantly, it reveals 4 stocks with massive profit potential. See these stocks now>>
Want the latest recommendations from Zacks Investment Research? Today, you can download 7 Best Stocks for the Next 30 Days.
Click to get this free report
Roche Holding AG (RHHBY): Free Stock Analysis Report
Bristol-Myers Squibb Company (BMY): Free Stock Analysis Report
Arena Pharmaceuticals, Inc. (ARNA): Free Stock Analysis Report
Clovis Oncology, Inc. (CLVS): Free Stock Analysis Report
To read this article on Zacks.com click here.