In the short-term, Friday's strong NFP data, which boosted the USD, is guiding EUR/USD into further bearish continuation. At this point, after last week's price action, 1.27 will be a key level. If price breaks above 1.27, we are likely in a meaningful consolidation or a bullish correction. Otherwise price action in the daily chart does not show any signs of stopping. The oversold condition shown by the RSI should be marginalized if not completely ignored because in a strong trend, oversold/overbought conditions don't mean anything.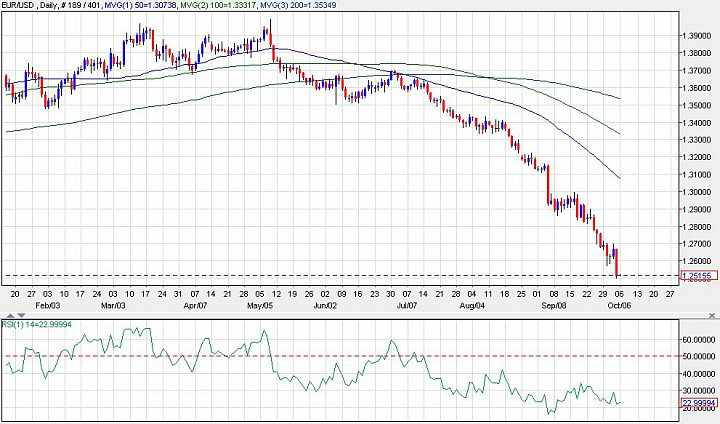 (EUR/USD Daily Chart 10/6)

As the short-term and medium-term outlooks are bearish, what about the long-term outlook, in the weekly/monthly charts?

In the monthly chart we can see that after a run-up from 0.8220 to 1.6038, EUR/USD has been in a bearish to sideways market since 2008. It has given us lower key highs every year, but the lows have been holding above the 200-month SMA, and essentially above 1.20. The area of lows will start around the 2008-low of 1.2331. We should anticipate some consolidation at least in the short-term if price reaches approaches or reaches this 1.2330 area, especially with the RSI reading flirting with oversold levels (below 30) already.

If price continues to be bearish past that 1.23-1.2350 area, we can expect a test of the 1.20 handle before any major consolidation in 2015.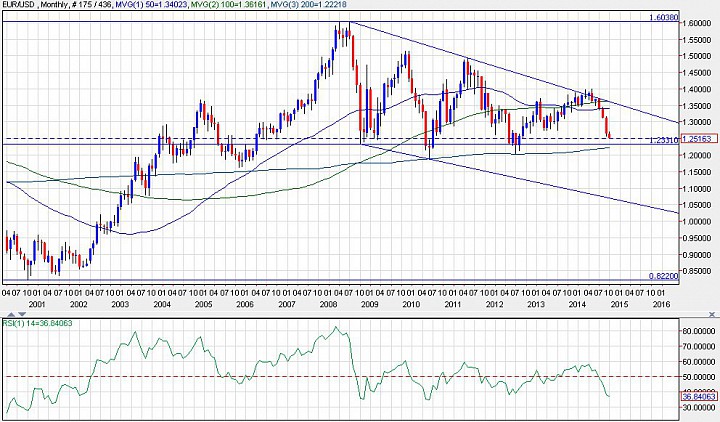 (EUR/USD Monthly Chart)