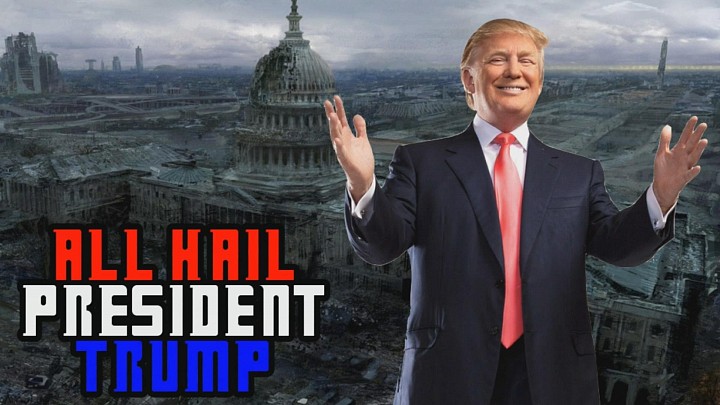 All hail Trump! 
Though I am, of course, disappointed in the outcome of the election and though I did not see it coming at all, as a good trader I was still prepared for the possibility of a Trump Presidency with our Trump Hedge Alert, that I sent to our Members last Tuesday afternoon, which was:
So we need something that will pop on a Trump victory that we don't mind owning if he doesn't win.  ABX springs to mind.  

In the STP, let's add the following Trump Trade:

Sell 20 ABX 2019 $15 puts for $2.80 ($5,600)

Buy 50 ABX 2018 $15 calls for $5.50 ($27,500)

Sell 50 ABX April $21 calls for $1.50 ($7,500) 

That's net $14,400 on the $30,000 spread and, of course, it's rollable so we may be able to squeeze another $10,000 out of it if gold goes up but not too fast.  Downside is owning 2,000 ABX at net $22.20 ($15 strike plus the cost of the spread/2,000 shares) but that would be the LTP's problem by then!  

Figure the worst case is ABX is back at $10 and then the net loss is about $20,000 (50% loss on the spread and 2,000 x $5) so that's the cost of the insurance.  

That's the secret to a good hedge, the downside is we own something we want to own anyway at a low price.  As we expected, gold rallied sharply last night and our Trump hedge should be in great shape.  Hell, the amount of gold he'll need to bling out the White House alone should strain the supply for months to come!  
Even better than hedges, of course, is Futures Trading.  Our Live Member Chat Room was on fire last night, watching the election live and commenting as the results came in.  Fortunately, BECAUSE we are well-hedged, we didn't panic as the markets dropped and, in fact, at 10:47 pm, with the S&P down over 100 points, I called the bottom: 
Oil just hit $43 and now it took gasoline with it ($1.335) – this had better be short-term.    

I'm willing to take a long poke at 2,040 on S&P Futures (/ES) with tight stops below. 

 I would think -5% pre-market is overdone because nothing changes for a couple of months and, even then, many months before things really change and some things will do great under Trump (guns and ammo, cement) so a total sell-off is obviously an over-reaction.  Also, there's a lot of happy Conservatives who will be happy to buy what the liberals are dumping – we don't know where things will settle just because Trump got elected – just like Brexit panic. 
As you can see, that was a pretty good bottom call and we took the money and ran at 2,100 ($2,400 gained per contract) as well as the Russell (/TF), which we took long at 1,130 for $4,000 per contract gains at 1,170 as well as Gasoline (/RB) at $1.34, still in play (and still trying to catch up from our too early longs) - congratulations to all our late-night Futures players!  We also have a set up from another alert I sent to our Members this morning, looking to play long if we cut back over these levels but, otherwise shorting if we begin to fail here – our lines are:
Well, I may have sold my Futures too soon but we have great lines for re-entering longs at 18,000 on /YM, 2,100 on /ES, 4,700 on /NQ, 1,175 on /TF and 16,800 on /NKD.   Tight stops below, of course and you can even use them as shorting lines if you need them (with tight stops above) but, as noted earlier – it was an overreaction.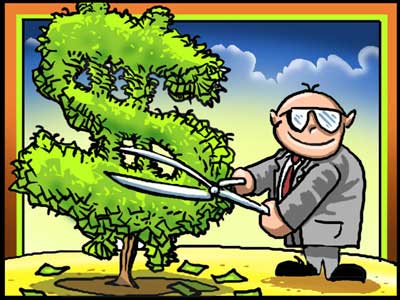 So now we'll wait and see.  We're long at the moment but, if our lines begin to fail us, we're happy to flip back to protect ourselves.  Our portfolios are very well-hedged and we have tons of CASH!!! on the sidelines (have I mentioned how much I love TRUMP!!! lately?) to take advantage of the market upheaval.
In Trump's acceptance speech he talked about jobs and infrastructure and we already have our money in companies like Chicago Bridge and Iron (CBI) and Cliffs Natural Resources (CLF) but Trump is no frend of the Banksters, so that will be interesting.  Expect Health Care stocks that benefitted from Obamacare like Tenet (THC) or HCA Holdings (HCA) to FREAK OUT while, of course, military stocks like our Lockeheed Martin (LMT) and Raytheon (RTN) can look forward to happy days once again.
So, as usual, there will be market winners and market losers and, as I said to our Members last night:
We survived Nixon and we survived Reagan and somehow we survived Bush II – Trump, however, maybe an extinction level event!
Let's hope he surprises us and Governs wisely and well.
Provided courtesy of Phil's Stock World.
Would you like to read up-to-date articles on the day they are posted? Click here to become a part of our growing community and learn how to stop gambling with your investments. We will teach you to BE THE HOUSE - Not the Gambler!