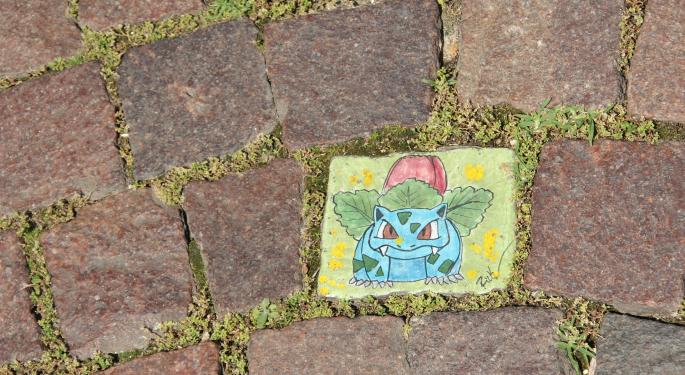 Pokémon GO, Nintendo Co., Ltd (ADR) NTDOY 11.95%'s newest mobile game hit, has retailers curious how they can best position themselves to profit from the game. At least one retailer may have found the answer.
Speaking to CNBC on Monday, GameStop Corp. GME 7.86%'s CEO J. Paul Raines revealed an interesting fact. According to Raines, 462 GameStop retail locations were featured as a Pokémon stop, or "PokéGym," and saw sales soar 100 percent over the weekend. In addition, Pokémon-related merchandise also rose "significantly across the board."
Related Link: Pokémon GO Could Cure Retailer's Traffic Slump; You Can Now Request PokéStops At A Specific Location
Raines added that GameStop is well positioned to capitalize on the game's success. He stated that the company is among one of the oldest licensees of Pokémon products and the single largest distributor of Pokémon games and collectibles in the world.
Outside of the Pokémon-related space, GameStop is preparing itself for a busy fall season, specifically, the launch of PlayStation's Virtual Reality headset.
In fact, analysts suggested GameStop's share of the new headset could be as much as 50 percent. Raines further suggested GameStop is well positioned to "dominate" the Sony Corp (ADR) SNE 0.87% VR launch even after it sold out within minutes the original allocation of devices Sony sent the company to sell.
Did you like this article? Could it have been improved? Please email feedback@benzinga.com with the story link to let us know!
© 2016 Benzinga.com. Benzinga does not provide investment advice. All rights reserved.