WESCO International, Inc.'s WCC second-quarter 2017 adjusted earnings per share (EPS) of $1.02 beat the Zacks Consensus Estimate by 4.1% or 4 cents. Earnings increased 34.2% sequentially but were flat year over year. Revenues of $1.91 billion however missed the Zacks Consensus Estimate by a slight margin.
The stock has declined 1.16% since the release of the results. Over the last one year, the stock has underperformed the industry it belongs to. It lost 6.2% against the industry's gain of 13.5%.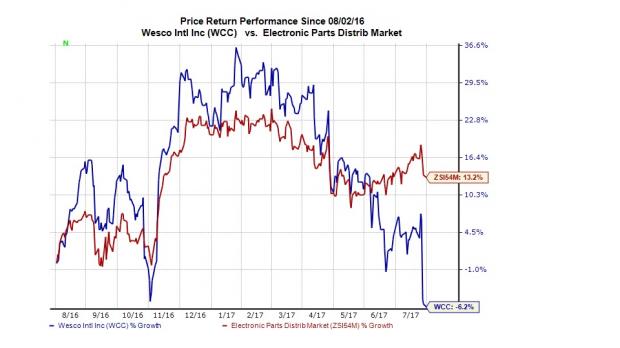 Notably, the company got back to organic sales growth, after eight consecutive quarters of decline. Strength in Industrial and CIG end markets, and Canadian and international businesses led to growth.
In the quarter, WESCO continued to focus on supply chain process enhancements and cost reduction. The company has a comprehensive portfolio of products and services and a sizable global footprint, which will help drive growth, going forward. On the flip side, supplier concentration, a significant debt load and limited liquidity are concerns.
The quarterly numbers in detail:
Revenues
WESCO's reported revenues were up 7.7% sequentially but down 0.1% year over year. Organic sales were up 8% sequentially and 1% year over year. Foreign exchange had a 1.1% negative impact on revenues.
WESCO International, Inc. Price, Consensus and EPS Surprise
End Market Update
Industrial End Market: WESCO stated that organic sales from the Industrial end market were up 6% year over year driven by 4% sales growth in the U.S. and 10% growth in Canada in local currency. On a sequential basis, sales were up 5% driven by growth in oil and gas, metals and mining and OEM customers.
Construction End Market: The Construction market was down year over year with U.S. down 6% and Canada 4% in local currency. Sequentially, sales were in line with normal seasonality. Sales decline at industrial oriented contractors in the U.S. was partially offset by sales growth at commercial contractors.
Utility End Market: Sales to the Utilities market were up 3% with the U.S. growing 5% and Canada declining 7% in local currency. The company has been performing well across all customer groups - investor-owned utilities, utility contractors and public power customers. Through 2016, WESCO witnessed sales growth for five consecutive years on the back of value creation and scope expansion with utility customers. In the second quarter of 2017, the company received a contract from an infrastructure upgrade project and investor-owned utility in Alberta, Canada to provide transmission and distribution materials.
CIG End Market: Organic sales to the CIG market were up 7% with sales in the U.S. growing 2% and Canada up a massive 30% in local currency. Sales were driven by strength across technology customers that include data centers and cloud technology projects, and growth resulting from fiber-to-the-X deployments, broadband build-outs as well as cyber and physical security for critical infrastructure protection.
Margins
Gross profit was $366 million, or 19.2% of sales. Gross margin was down 50 basis points (bps) sequentially and 70 bps from last year. The decline was mainly due to impact of adjustments not directly related to invoicing and higher-than-normal expense for inventory write-ups.
Operating expenses of $283 million were slightly up sequentially but down 2.9% from the year-ago quarter. Both selling, general and administrative and depreciation and amortization expenses decreased sequentially and year over year as a percentage of sales.
Operating profit of $83.1 million (or 4.4% of sales) was up 57 bps sequentially but down 25 bps from a year ago.
Balance Sheet
Cash and cash equivalents at the end of the second quarter was $87.8 million compared with $103 million at the end of the first quarter. Long-term debt was $1.33 billion compared with $1.31 billion in the first quarter.
The company generated $66.8 million in cash from operations. Capex was $9.8 million. It repurchased $50 million worth of shares during the quarter.
Free cash flow stayed strong and surpassed 100% of net income.
Guidance
The company expects third quarter sales to be up 2% to up 5%. Operating margin is expected within 4.2% to 4.6%. Effective tax rate for the quarter is expected to be roughly 27%.
For 2017, the company narrowed its expectations from flat to up 4% to up 1% to 3%. Earnings per share are expected in the range of $3.60 to $3.90. The company continues to expect its free cash flow to be at least 90% of net income.
Zacks Rank
Currently, WESCO has a Zacks Rank #4 (Sell).
Better-ranked stocks worth considering in the broader technology sector include Alibaba BABA, Lam Research Corporation LRCX and MaxLinear MXL, each sporting a Zacks Rank #1 (Strong Buy). You can see the complete list of today's Zacks #1 Rank stocks here.
Long-term expected earnings per share growth for Alibaba, Lam Research and MaxLinear are projected to be 30.4%, 16.4% and 17.5%, respectively.
Will You Make a Fortune on the Shift to Electric Cars?
Here's another stock idea to consider. Much like petroleum 150 years ago, lithium power may soon shake the world, creating millionaires and reshaping geo-politics. Soon electric vehicles (EVs) may be cheaper than gas guzzlers. Some are already reaching 265 miles on a single charge.

With battery prices plummeting and charging stations set to multiply, one company stands out as the #1 stock to buy according to Zacks research.
It's not the one you think.
Want the latest recommendations from Zacks Investment Research? Today, you can download 7 Best Stocks for the Next 30 Days.
Click to get this free report
Alibaba Group Holding Limited (BABA): Free Stock Analysis Report
WESCO International, Inc. (WCC): Free Stock Analysis Report
MaxLinear, Inc (MXL): Free Stock Analysis Report
Lam Research Corporation (LRCX): Free Stock Analysis Report
To read this article on Zacks.com click here.
Zacks Investment Research