It is expected that iPhone 5 will be released on September 10th, 2013 but what will happen to the stock price. Looking at past releases, it might not be good. According to David Goldman of CNN money. Past releases of the iPhone has result in a decrease in stock price for 5 of the past 6 releases. Here are charts of stock prices on release date one month after release date: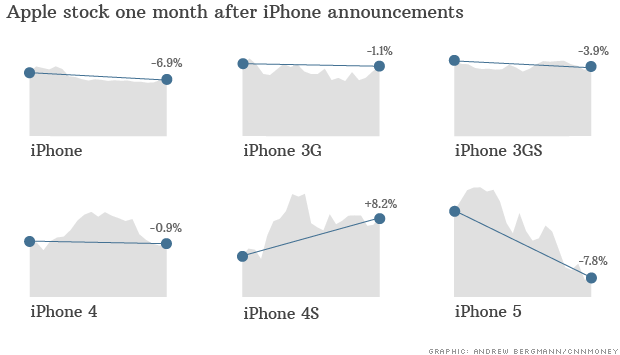 (Chart Source: CNN Money) 
If you are really short term, the announcement usually leads to an increase in stock prices for the first day or two. However, if you believe in the efficient market, the market has priced in all public information already and there is no way to predict any up or down in the markets.
It is interesting to see what will happen as Apple refreshes its products since the company had nothing new in one year. 
So what is your expectation? Or is Apple a good buy and hold?