Unless you closely follow the stock, you probably had no idea shares of Advanced Micro Devices (NASDAQ:AMD) are up a gaudy 620% since March 2016 in the last 12 months. That is not a typo.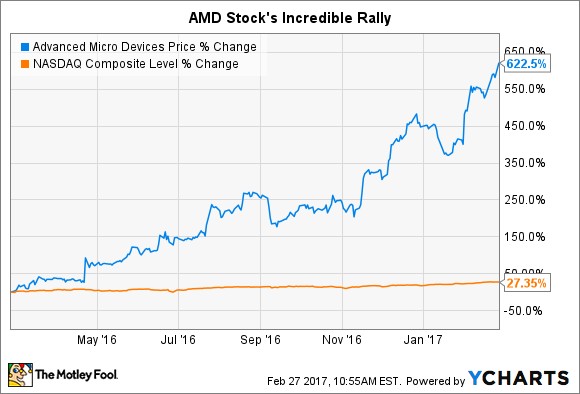 The ongoing rally in AMD shares has been perhaps one of the least discussed but most impressive investing storylines in tech in the past year. In fact, AMD's share-price surge is about three times larger than the incredible run in NVIDIA stock over the last year. So what's driving this wild, newfound bullishness in AMD stock? Let's take a look.
Understanding AMD's stock rally
AMD's business has enjoyed something of a turnaround in recent quarters. After seeing sales fall for seven consecutive quarters, AMD has produced positive sales growth in each of its three most recent quarters. Investors anticipate company-specific and industrywide trends will allow AMD to expand its business presence in each of its two core operating segments in the years to come.
On the gaming side of its business, Microsoft and Sony will each refresh their respective consoles in the coming years to enable next-generation graphic capabilities like 4K video quality and virtual reality (VR) gaming. AMD is the main supplier of semi-customer system-on-a-chip (SOC) for both Microsoft's Xbox and Sony's Playstation gaming consoles; Sony and Microsoft each consistently account for more than 10% of AMD's annual sales.
. Microsoft has already announced its latest Xbox iteration, dubbed Project Scorpio, which will arrive in time for the 2017 holiday season. Sony...
More