Electronic Arts EA reported first-quarter fiscal 2018 results, wherein the company's adjusted earnings of 36 cents per share easily beat the Zacks Consensus Estimate of 14 cents.
Revenues (excluding deferred revenues) came in at $775 million compared with $682 million in the year-ago quarter. The Zacks Consensus Estimate stood at $765.9 million.
Per EA, total revenue came in at $1.449 billion, up 14% year over year. Continued increases in digital revenues and strength in games like The Sims, Star Wars, and EA Sports titles like FIFA 17 and Battlefield 1 were the driving factors.
EA's digital revenues (60.7% of revenues) increased 28% to $879 million while revenues from EA's Packaging goods and Other segment (39.3% of total revenue) were down 2% to $570 million.
Electronic Arts Inc. Price, Consensus and EPS Surprise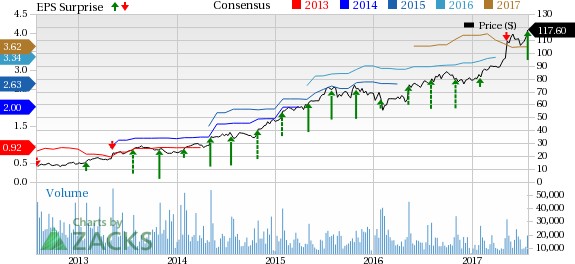 Electronic Arts Inc. Price, Consensus and EPS Surprise | Electronic Arts Inc. Quote
Further segregating digital revenues, full game downloads revenues were up 53% to $209 million from the first quarter of fiscal 2017 while EA mobile games increased 2% year over year to $169 million. Revenues from Live services increased 29% to $501 million. It now includes revenues from extra content and subscriptions, advertising, and others.
Margins
EA's gross margin came in at 89.4% compared with 85.9% reported in the prior-year quarter.
Operating profit was $743 million, up 32.7% from the prior-year quarter.
Balance Sheet and Cash Flow
As of Jun 30, 2017, EA had $4.47 billion in cash and short-term investments compared with $3.834 billion as of Mar 31, 2016. Net cash provided by operating activities in the quarter came in at $176 million.
During the quarter, the company repurchased 1.4 million shares for $150 million. EA has $1.08 billion worth of shares left under its two-year $1.2 billion buyback program announced this May.
Outlook
EA provided guidance for the second quarter and reiterated fiscal 2018 guidance. Strength in franchises like Battlefield, FIFA and Star Wars will boost the top line in the fiscal year. Management expects the "live services components" of the franchises to emerge as a big future growth driver.
For the second quarter, the company expects GAAP revenues of $955 million. Change in deferred revenues will be $205 million. The company projects loss per share of 18 cents.
For fiscal 2018, EA continues to expect generating GAAP revenues of approximately $5.075 billion. Change in deferred revenues will be around 25 million. The company projects earnings per share of $3.57. Operating cash flow is estimated to be around $1.575 billion.
Our Take
We believe that EA's popular franchises such as Battlefield and FIFA, and strength in digital business, especially mobile games, are the key growth catalysts. Cost optimization initiatives will prove to be beneficial.
Stiff competition from other game makers such as Activision Blizzard Inc. ATVI, Take Two Interactive TTWO and Glu Mobile Inc. GLUU remains a major concern.
In the last one year, Electronic Arts returned 54.2% compared with the industry's gain of 39.1%.

Currently, Electronic Arts has a Zacks Rank #3 (Hold). You can see the complete list of today's Zacks #1 Rank (Strong Buy) stocks here.
The Hottest Tech Mega-Trend of All
Last year, it generated $8 billion in global revenues. By 2020, it's predicted to blast through the roof to $47 billion. Famed investor Mark Cuban says it will produce "the world's first trillionaires," but that should still leave plenty of money for regular investors who make the right trades early.
See Zacks' 3 Best Stocks to Play This Trend >>
Want the latest recommendations from Zacks Investment Research? Today, you can download 7 Best Stocks for the Next 30 Days.
Click to get this free report
Activision Blizzard, Inc (ATVI): Free Stock Analysis Report
Take-Two Interactive Software, Inc. (TTWO): Free Stock Analysis Report
Electronic Arts Inc. (EA): Free Stock Analysis Report
Glu Mobile Inc. (GLUU): Free Stock Analysis Report
To read this article on Zacks.com click here.
Zacks Investment Research