USD/JPY has been bearish until it hit a low of 98.85 in June. But even though it went into a mode of consolidation, there was still bearish bias - namely, the key highs were still getting lower.

But as we can see in the daily chart, USD/JPY has broken above a key pivot around 104 and thus broke the pattern of lower highs. Now, USD/JPY has officially gone from bearish to neutral from the technical picture in the daily chart. 

USD/JPY Daily Chart 10/13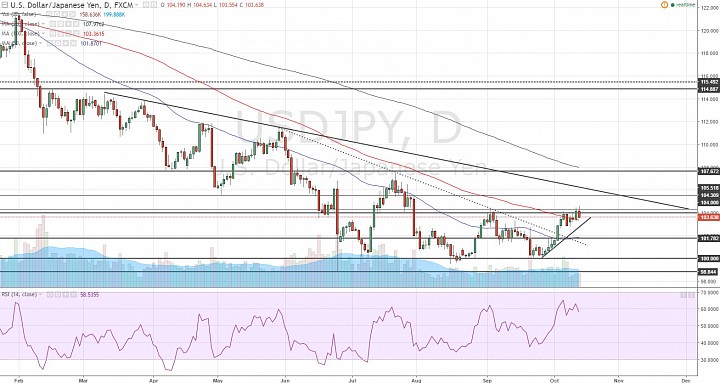 (click to enlarge)

What does this mean?
- There is a stronger case for a bullish reversal scenario.
- Traders should have more confidence towards the buy on a dip strategy. 
- Traders shorting USD/JPY should temper with the bearish outlook, and not rely it to come back to 100.00 again. 
- In fact, I would start looking at the 101-101.75 area as key support. 

The current rally:
- The current rally that started in September is still in play and has upside risk towards the 105.50 area.
- At 105.50 USD/JPY will meet a previous support pivot and a falling trendline.