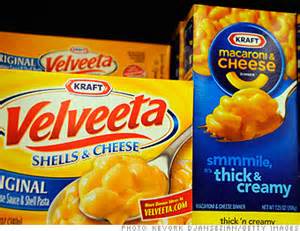 Kraft Foods Group (KRFT) soared more than 40% on March 25 on news that it agreed to merge with Heinz, in a massive deal backed by Warren Buffett and his financial partner 3G Capital. Buffett's Berkshire Hathaway (BRK.B) and 3G, which joined together to buy Heinz two years ago, will pay $10 billion to join Kraft and Heinz. This money will essentially finance a $16.50 special dividend that will go to current Kraft shareholders.
The move is critical for Kraft, which has seen sales growth slow dramatically over the past few years. Kraft is one of a number of large food conglomerates that hold iconic American brands, but aren't growing much, as packaged and shelf-stable foods are losing favor. Consumers, particularly among younger generations, are demanding fresher foods with better nutritional value. This changing consumer trend has spurred dramatic growth in organics, but "old food" companies like Kraft missed the boat.
The deal with Buffett and 3G will allow Kraft to expand in new geographies around the world, which is really the best chance to resume growth, since the U.S. market isn't growing for these types of companies. Kraft shareholders should thank Warren Buffett today.