This weekend, 100 pilots will gather to race in front of the Manhattan skyline at speeds of more than 60 miles an hour. These pilots won't be in the air, however—they will race drones in the 2016 U.S. National Drone Racing Championships.
And for the first time ever, they'll race live on a national broadcast: ESPN3 will air the race on Saturday and Sunday at 1 p.m. Eastern time—the first time America's largest sports network will cover the sport. For drone racers, organizers and enthusiasts, Disney-owned DIS, +0.74% ESPN's streaming broadcast is a breakthrough moment.
"ESPN legitimizes drone racing from a hobby level to a sport level," said Sahand Barati, chief executive of Drone Sports Association, the racing league that is putting on the New York race this weekend. "ESPN airing it is proof [that drone racing] is going to be a real thing versus just a fad."
Barati says sponsors have piled into the event, and that drone racing is now on companies' radar as the newest way to tap into the emerging crossover between sports and technology—and target a generation of young viewers more interested in YouTube and Pokémon Go than Monday Night Football.
But can this new fringe sport attract enough attention—and money—to go mainstream?
Drone-racing leagues have been springing up around the country for the past few years, with more appearing just in the past few months.
There are dozens of small or regional leagues that organize small events. Then there are the contenders, a handful of bigger leagues—like Drone Sports Association, the Drone Racing League and the International Drone Racing Association—that are all vying to become the Nascar of flying robots.
Among these bigger players, no one league has yet to emerge as the heavyweight: some leagues have secured significant investment, while others are taking the lead in major sponsorship deals or broadcast contracts. The Drone Racing League in January said it secured more than $8 million in funding, including investment from RSE Ventures, the venture-capital firm run by Miami Dolphins owner Stephen Ross.
Another league, the Aerial Sports League, is going to open a full-scale, drone racing entertainment complex in San Francisco this month. Also this month, a racing series called DR1 will be the first drone race to stream on popular social gaming platform Twitch. It's sponsored by PepsiCo.'s PEP, +0.12% Mountain Dew.
For the championship race on ESPN's streaming offering this weekend, Drone Sports Association has snagged sponsorship deals from action-camera maker GoPro Inc. GPRO, +2.13% which has said it is developing a drone, as well as Ernst & Young and American International Group AIG, +2.49% .
The ESPN broadcast will combine features of a traditional sports broadcast with elements that have grown out of the popularity of professional videogame events, dubbed eSports. Commentators will call the race live and there will be pre- and post-race interviews with racers, but there will also be first-person camera views from the drones.
For many sponsors, the similarities between drone racing and eSports, as well as other new technologies, are the main draw.
"It's a sport, a form of recreation, but it has implications in other sectors we have been following, like streaming and virtual reality," said Keith Strier, who coleads innovation and digital enterprise strategy for sponsor Ernst & Young. "Take all these different topics and put them into one nice little package. No other sport comes closer to capitalizing on them. "
Despite the appeal for sponsors, many in the drone racing community wonder if there is enough support for so many leagues to survive. Zoe Stumbaugh, a drone pilot who is competing this weekend, said she thinks consolidation must happen for the sport to make money.
"A lot of leagues are competing against each other for entertainment purposes and profits," Stumbaugh said.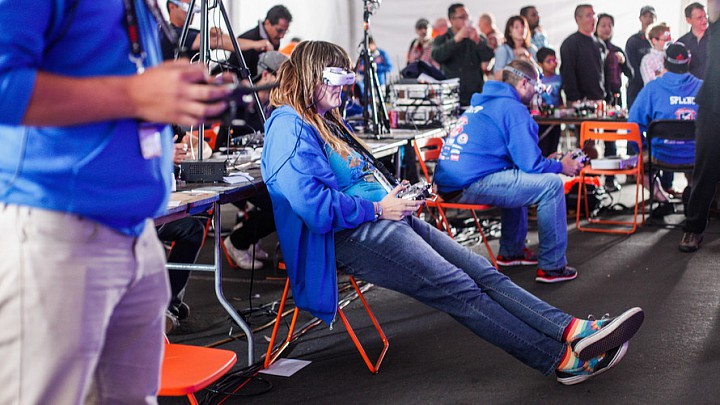 More