The
NZD/JPY pair
has been in a week long downtrend, after putting in its post-FOMC highs near 83.50.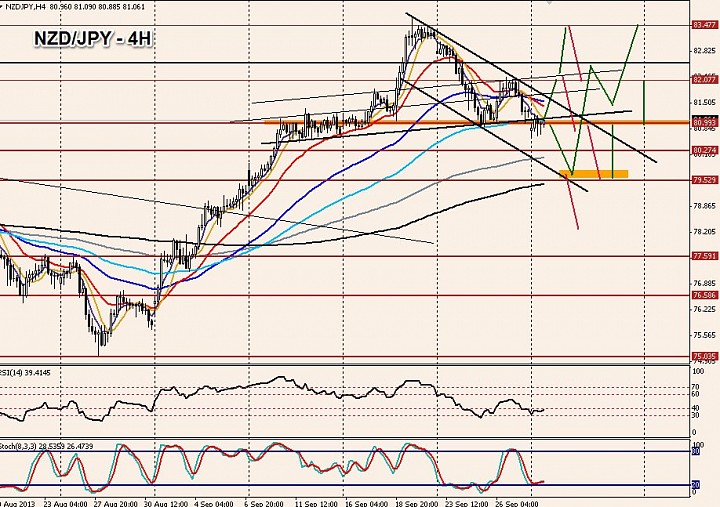 Now, the pair has set up at an important pivot at the 81 handle, and what happens around this key level should decide which way the pair goes for the first half of this week.
The first option is that support here holds, and the pair moves back towards 82.0, and its recent consolidation levels. The current news flow doesn't seem conducive to a strong rally in risk sentiment, so a push to the post-FOMC highs seem unlikely. 
Therefore, looking at the bearish outlook, any rallies could be used as a pretext to get short in order to have a better entry and risk-reward levels. As long as 82.0 holds, the bearish case should be intact, and tactical selling near the recent highs in the pair would offer a good entry for a potential down-swing.
Price could also be jolted through the current support zone and make its way towards the 200-ema (in gray) and the 200-sma (in black) which are at 80.20 and 79.50 respectively. That would require negative risk-sentiment and a weak news-flow that results in risk-off trading. This would be a break-out play, and so the risk-reward is not as good selling the break of support (since orders may be lurking right underneath. If the pair goes to an extreme in favor of the JPY, probably good to scale down if the pair reaches the 79.50 level. 
OK, let's see where risk sentiment goes as the start of the week proceeds and see if a rally in risk sentiment present a better shorting opportunity in the JPY crosses. Important to see the news flow and what the latest is regarding the US gov't shutdown and Italy's recent political theatrics.
See the price action in NZDJPY since this analysis was written by clicking on the chart below: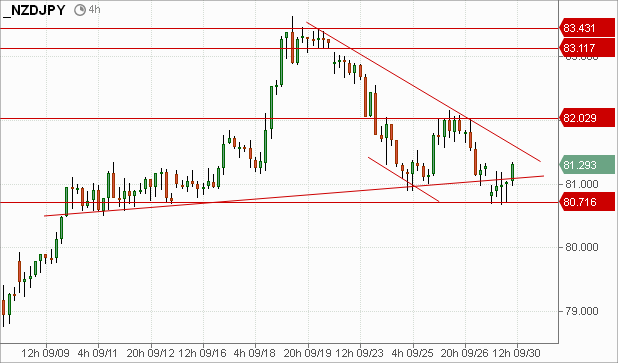 - Nick