It's always useful to look for stocks that have underperformed the market and their sector because it can illuminate some great investing ideas. In this regard, General Electric Company (NYSE: GE) , MSC Industrial Direct Co (NYSE: MSM) and Fastenal Company (NASDAQ: FAST) are all stocks investors should be taking a closer look at, and here's why.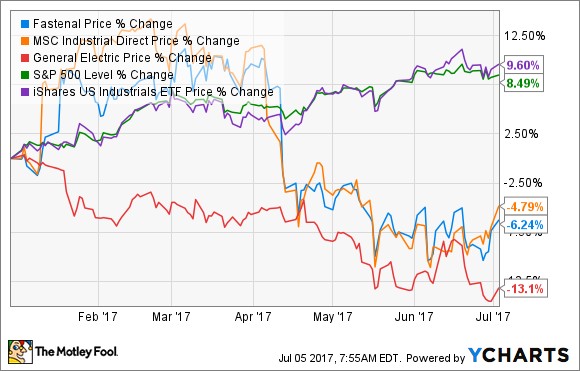 With a market cap of nearly $240 billion, GE's size dictates that its stock performance is a large determinant of how the industrial sector performs in general -- a fact that makes its significant under-performance even more notable. So, what's gone wrong with GE's stock in 2017? As ever, it's a matter of conjecture, but it's clear that analysts don't think the company will hit its earnings targets .
Moreover, the company missed revenue targets in 2016 and disappointed with weak free cash flow in the first quarter, while questions have been asked about its core power segment and oil & gas operations. It's not been a happy time for GE investors.
However, what matters now is the investment proposition going forward, and despite disappointing the investment community in recent times, GE's underlying growth prospects still look good . A combination of cost cuts -- structural and unit cost production reductions -- earnings-enhancing deals with Baker Hughes and Alstom , digital initiatives, and the potential for significant restructuring when new CEO John Flannery completes his review are all potentially positive catalysts for GE.
Meanwhile, the stock's valuation stands at a discount to its peers.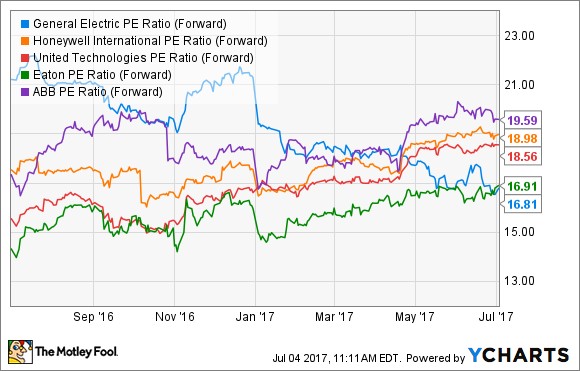 MSC Industrial Direct Co and Fastenal end markets improving
One of the reasons the industrial sector has done well in 2017 is the return to growth of U.S. industrial production. That's good news for U.S. manufacturing, and...
More