Nektar Therapeutics NKTR shares increased more than 4% on Tuesday after the company announced positive top line results from an oral human abuse potential (HAP) study, evaluating its opioid analgesic candidate, NKTR-181, to assess the abuse potential compared with oxycodone.

NKTR-181 is a new chemical entity (NCE), designed to treat pain without inducing euphoria associated with opioids that can lead to abuse and addiction. Notably, the FDA had granted a Fast Track designation to the NKTR-181 development program, back in May 2012. So far, the drug has not been approved by the FDA or any other regulatory agencies.

Nektar's shares have significantly outperformed the Zacks classified Medical-Drugs industry so far this year. The stock has soared 76.1% compared with the broader industry's advance of 6.9%.





The HAP study was designed to compare therapeutic (400 mg) and supratherapeutic dosings (higher than its analgesic dose range of 100 mg-400 mg) of NKTR-181 versus a Schedule II opioid, oxycodone dose.

The trial was conducted on 54 healthy non-dependent recreational drug users and has met both its primary and secondary endpoints. It demonstrated lower rating of peak liking and lower area under effect (AUE) for drug liking compared with oxycodone across every doses. In other words NKTR-181 shows a significantly less abuse potential compared with oxycodone.

Per the company's press release, opioid abuse is widespread in the U.S., with one in five having been an addicted patient to prescription painkillers. It is estimated that approximately two million Americans are either abused or dependent on prescription opioid pain relievers in 2014. Hence the drug's approval will provide the company with a huge commercial opportunity in the U.S.

We remind investors that in Mar 2017, Nektar announced positive results from SUMMIT-07 phase III efficacy study, evaluating NKTR-181 in patients with moderate to severe chronic low back pain. The study met the primary endpoint and demonstrated a significantly improved chronic back pain relief on treatment with NKTR-181 compared with placebo. Key secondary endpoints were also of high statistical significance.

However, Nektar is expected to face intense competition in the pain market with several companies developing pain therapies. Competitors include Collegium Pharmaceutical, Inc.'s COLL Xtampza and Teva Pharmaceutical's TEVA naproxen to name a few.

Meanwhile, Endo International plc ENDP recently announced that it will withdraw opioid pain medication Opana ER (oxymorphone hydrochloride extended release) from the market following FDA's request in June. Hence, withdrawing the drug from the market will provide a potential opportunity for NKTR-181 in the coming times.
Nektar Therapeutics Price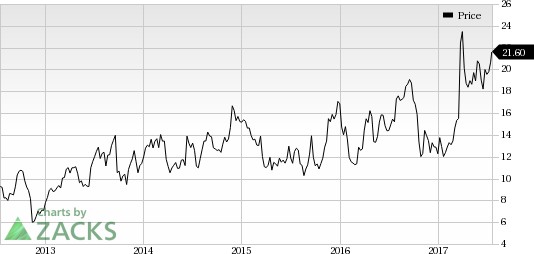 Zacks Rank
Nektar currently carries a Zacks Rank #3 (Hold). You can see the complete list of today's Zacks #1 Rank (Strong Buy) stocks here.
Looking for Stocks with Skyrocketing Upside?
Zacks has just released a Special Report on the booming investment opportunities of legal marijuana.
Ignited by new referendums and legislation, this industry is expected to blast from an already robust $6.7 billion to $20.2 billion in 2021. Early investors stand to make a killing, but you have to be ready to act and know just where to look. See the pot trades we're targeting>>
Want the latest recommendations from Zacks Investment Research? Today, you can download 7 Best Stocks for the Next 30 Days.
Click to get this free report
Endo International PLC (ENDP): Free Stock Analysis Report
Nektar Therapeutics (NKTR): Free Stock Analysis Report
Collegium Pharmaceutical, Inc. (COLL): Free Stock Analysis Report
Teva Pharmaceutical Industries Limited (TEVA): Free Stock Analysis Report
To read this article on Zacks.com click here.
Zacks Investment Research