Earnings season is upon us with Alcoa (AA) reporting second quarter numbers.  With stocks at all-time highs, many traders will be looking for any excuse to sell.  Earnings were lackluster in the first quarter, but many analysts and traders dismissed it because of extreme winter weather and the market continued to climb.
However, analysts and investors will probably not be as kind this time around as many feel stocks are a little pricey.  The S&P 500 is trading at about 15.7 times expected earnings, the highest levels since 2007.  While earnings per share (EPS), revenues, profits, and sales are scrutinized, close attention will be paid to discretionary stocks (retailers, restaurants, and leisure companies) for any signs of a pickup in consumer spending.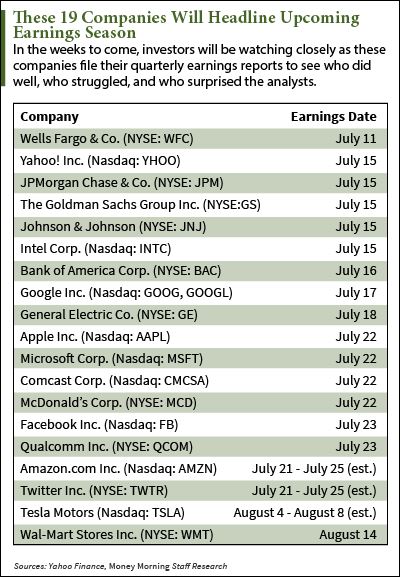 Just four companies in the S&P 500 post earnings this week.  Alcoa second-quarter profit excluding restructuring costs and other one-time items was 18 cents a share, beating the 12-cent estimates.  Sales were little changed from a year earlier at $5.84 billion, compared with the $5.65 billion average estimate.  AA rose as much as 4%.