Surprisingly, the Q1 earnings season hasn't been so bad thus far, implying that either investors were expecting results even weaker than this or the guidance for most companies was already lowered to easy-to-beat levels.

Looking at the Consumer Staples sector, we note that despite the macro issues, quite a few companies are coming out with upbeat results. This sector, which has its lifeblood vested in consumer behavior, seems to be gaining from the increase in gross domestic product (up 1.4%), a favorable job scenario, heightened consumer confidence and constant housing market recovery.

Per the latest Earnings Trend Report (as of Apr 27, 2016), nearly 40.6% of the consumer staples companies have already reported their first-quarter results, out of which 84.6% beat earnings and 61.5% surpassed revenue estimates. However, total earnings for these companies slipped 0.7%, with revenues sliding 7.3% year over year.

Among these companies, we saw leading names like PepsiCo Inc. PEP and The Coca-Cola Company KO deliver solid Q1 results recently. Despite soft demand for their sugary sodas, currency headwinds and sluggishness in the core emerging markets, these soft drink behemoths' bottom lines beat the Zacks Consensus Estimate, thereby bringing the sector into the limelight.

Overall, the sector is currently expected to see a 0.5% drop in earnings and a 4% fall in sales in first-quarter 2016, comparing favorably with respective declines of 6.3% and 7.9% witnessed in the fourth quarter of 2015.

Let's see what these consumer staples stocks, slated to release Q1 earnings on Apr 29, have in store.

Marketer and distributor of energy drinks and alternative beverages – Monster Beverage Corporation MNST is set to report first-quarter 2016 results. The company currently carries a Zacks Rank #3 (Hold), while its Earnings ESP of 0.00% makes surprise prediction difficult.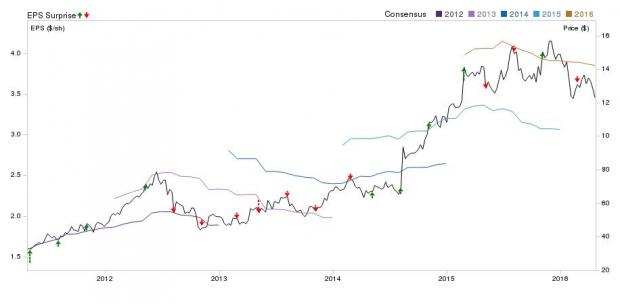 Monster Beverage's revenues in the first quarter of 2016 are expected to gain from the new products launched in the U.S. over the past few quarters, solid international sales and growing momentum at the energy drink category. Further, the company's gross margins have been benefiting from strong product sales and favorable segment mix. Moreover, the price increases and lower raw materials costs have been boosting the gross margin for a while now, and we expect the trend to continue.

Despite these positives, Monster Beverage's growing international presence remains a concern as it exposes the company to currency exchange risks, which may weigh on its sales and profits. (Read more: What Awaits Monster Beverages in Q1 Earnings?)

Taking a look at Newell Brands Inc. NWL, we expect this consumer and commercial products manufacturer and marketer to beat expectations when it reports first-quarter 2016 results. This Zacks Rank #1 (Strong Buy) company, which currently has an Earnings ESP of +2.63%, has outperformed the Zacks Consensus Estimate by an average of 2.7% over the past four quarters, with a positive surprise in three of these.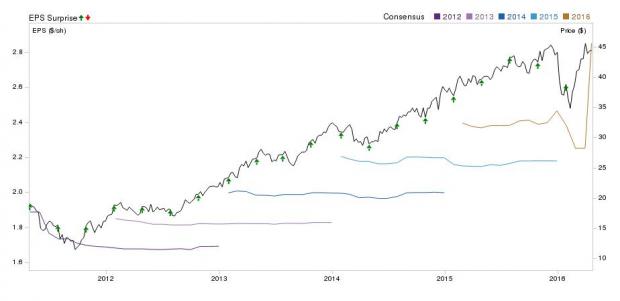 Newell has been gaining strength from splendid brand performance and benefits from the Project Renewal program, which has generated persistent cost savings. Further, Newell's practice of strengthening its portfolio through strategic acquisitions and reducing activities with marginal profitability bodes well. Encouraged by its solid business trends, the company retained its normalized earnings per share and core sales outlook for 2016 despite anticipating a stronger impact from adverse currency fluctuations going forward, thus making us optimistic about the upcoming results. (Read more: Newell Likely to Beat on Q1 Earnings: Stock to Gain?)

Check later on our full write-up on earnings releases of these stocks.

Want the latest recommendations from Zacks Investment Research? Today, you can download 7 Best Stocks for the Next 30 Days. Click to get this free report >>
Want the latest recommendations from Zacks Investment Research? Today, you can download 7 Best Stocks for the Next 30 Days.
Click to get this free report
NEWELL BRANDS (NWL): Free Stock Analysis Report
COCA COLA CO (KO): Free Stock Analysis Report
PEPSICO INC (PEP): Free Stock Analysis Report
MONSTER BEVERAG (MNST): Free Stock Analysis Report
To read this article on Zacks.com click here.
Zacks Investment Research