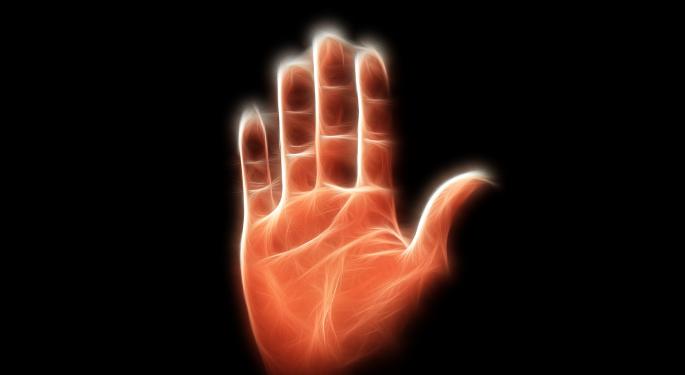 If you could get an implant that would slim down process times and cumbersome carry-ons, would you?
The question used to be a fun theoretical, a quirky follow-up to "what's your zombie apocalypse plan?" But the concept is no longer fanciful, nor is it futuristic.
On Aug. 1, a Wisconsin tech firm will launch a voluntary program for employees to embed rice-sized microchips between the thumb and forefinger, allowing them to swipe in and out of facilities and pay for cafeteria food with a simple hand wave.
As of Monday, 50 of Three Square Market's 80 employees had volunteered, some without hesitation.
"It was pretty much 100 percent yes right from the get-go for me," Sam Bengtson, a software engineer, told the New York Times. "In the next five to 10 years, this is going to be something that isn't scoffed at so much, or is more normal. So, I like to jump on the bandwagon with these kinds of things early, just to say that I have it."
Some were more apprehensive, considering uncertainty surrounding cyber vulnerabilities or the potential for employers to more invasively monitor activity, like tracking bathroom time.
The opportunity seems to demand more immediate decision than some expected, particularly as it becomes more prevalent. Firms in Belgium and Sweden have already implemented similar programs.
A Cardless World
But a number of firms have attempted to address the same problems of microchip makers by less invasive means.
Over the last few years, many transactions and identification processes are completed through mobile devices. Mobile boarding passes, Apple Inc AAPL 0.7% Wallet, Apple Pay, and a number of electronic systems have simplified airline boarding, retail purchases and processes previously requiring swipeable cards.
Now, some are trending toward a world altogether device-less, requiring nothing from consumers but their person.
The Detroit Tigers debuted a program to allow fans to pass security checks through a fingerprinting scan. The biometric readers are also installed in airports to hasten pre-TSA screening identification.
If the trend catches on, it may mean the death of cumbersome collections of plastic.
© 2017 Benzinga.com. Benzinga does not provide investment advice. All rights reserved.
Source