Intrexon Corporation XON reported loss per share of 26 cents in the first quarter of 2017, which was wider than the Zacks Consensus Estimate loss of 23 cents.
Total revenue came in at $53.7 million in the quarter, up 23.7% year over year. Reported revenues surpassed the Zacks Consensus Estimate of $49 million.
Shares of the company were up in after trading hours. Notably, shares of the company lost 8.2% compared with the Zacks classified Medical-Medical Services industry's fall 0.4% on a year-to-date basis.

Quarter in Detail
Intrexon's revenues primarily consist of collaboration and licensing revenues as well as product and service revenues.
Collaboration and licensing revenues increased 37.4% to $33.1 million. While product revenues came in at $8.1 million, down 5% from the year-ago period, service revenues amounted to $12 million, up 12.8% year over year.
Intrexon follows a business model under which it commercializes its technologies through exclusive channel collaborations (ECC), licensing agreements and joint ventures with collaborators that have market and product development expertise as well as sales and marketing capabilities to bring new as well as improved products and processes to market. Such agreements provide the company with funds in the form of technology access fees along with milestones and other payments.
Additionally, the company is also developing several candidates in partnership with other companies.
In fact, the FDA granted Fast Track designation to Fibrocell Science, Inc. FCSC for FCX-007 for the treatment of recessive dystrophic epidermolysis bullosa in Jan 2017. FCX-007 is being developed by Fibrocell in collaboration with Intrexon.
In May 2017, Intrexon's collaborator, ZIOPHARM Oncology, Inc. ZIOP announced that the FDA accepted investigator-initiated Investigational New Drug (IND) application for a phase I study infusing Intrexon's CD33-specific chimeric antigen receptor T cell (CAR-T) and therapy, for the treatment of relapsed or refractory acute myeloid leukemia (AML). ZIOPHARM 's immuno-oncology programs, in collaboration with Intrexon include CAR-T and other adoptive cell-based approaches that use non-viral gene transfer methods for broad scalability.
In Mar 2017, Intrexon announced the formation of Precigen, Inc., a wholly-owned subsidiary of the company as part of an ongoing evaluation of structural alternatives concerning its business in healthcare. Intrexon plans to consolidate all health-related assets under this new corporate entity as it considers potential strategic options to enhance shareholder value.
In Jan 2017, Intrexon inked deal to acquire GenVec, Inc. GNVC and announced plans to develop a next generation adenoviral (AdV) platform with significantly higher payload capacity compared to current systems. Intrexon plans to combine and expand upon GenVec's expertise in adenoviral vectors and cGMP drug product manufacturing to enhance its broad gene transfer capabilities that include multiple viral and non-viral platforms.
Intrexon Corporation Price, Consensus and EPS Surprise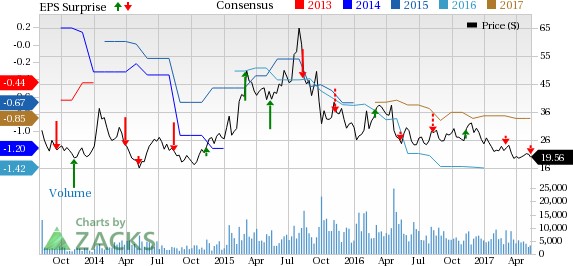 Intrexon Corporation Price, Consensus and EPS Surprise | Intrexon Corporation Quote
Zacks Rank & Key Picks
Intrexon is a Zacks Rank #3 (Hold) stock. You can see the complete list of today's Zacks #1 (Strong Buy) Rank stocks here.

The Best & Worst of Zacks
Today you are invited to download the full, up-to-the-minute list of 220 Zacks Rank #1 "Strong Buys" free of charge. From 1988 through 2015 this list has averaged a stellar gain of +25% per year. Plus, you may download 220 Zacks Rank #5 "Strong Sells." Even though this list holds many stocks that seem to be solid, it has historically performed 6X worse than the market. See these critical buys and sells free >>
Want the latest recommendations from Zacks Investment Research? Today, you can download 7 Best Stocks for the Next 30 Days.
Click to get this free report
ZIOPHARM Oncology Inc (ZIOP): Free Stock Analysis Report
Fibrocell Science Inc (FCSC): Free Stock Analysis Report
Intrexon Corporation (XON): Free Stock Analysis Report
To read this article on Zacks.com click here.
Zacks Investment Research