A preview of today's BOE "Super Thursday" from RanSquawk and Forex.com
Today the Bank of England releases its rate decision, minutes and quarterly inflation report (QIR) all at 1200BST with the QIR press conference to be held by Governor Carney at 1245BST. Given the volume of information on offer, the release is likely to be met with volatility.
Background
The rate decision is expected to see the BoE keep policy on hold , however the minutes could prove to be more interesting.
Consensus suggest this month's minutes could see a 7-2 vote (currently 9-0) with some analysts even suggesting a 6-3 vote after July's meeting saw 'a few' members suggest a 'fine balance' between voting for a rate hike or not. The two most touted members to vote for a rate hike are McCafferty and Weale. Other names include Miles, who is leaving the committee after this month and has recently forecast inflation rising to the 2% target towards the end of this year, and Forbes who has previously been considered the most likely member to join McCafferty and Weale. It should be noted however that if BoE's Miles were to vote for a rate hike, it would be less consequential than other members as he is being replaced in September by Gertjan Vlieghe, who analysts at Barclays and Citi both forecast will have a more dovish leaning.
The BoE's QIR could also prove of interest to many participants, with the report potentially shedding more light on the bank's outlook for inflation and growth. The previous report said CPI is on track to return to the 2% target in 2 years despite cutting the 2016 CPI forecast to 1.6% citing downside risk to near term inflation. More specifically, the BoE said inflation is likely to be below as above 2.0% in Q2 2017, therefore any shift in the distribution of inflation expectations around 2% will be key.
Since this report, inflation has failed to show any marked pick-up (currently stands at 0.0% Y/Y). However, the central bank themselves have been more upbeat for the inflation outlook (as per above comments from Miles). That said, analysts suggest that although it is hard to pinpoint an exact forecast, there is downside risk to near-term inflation outlook given the appreciation of GBP and continued decline in oil prices. Nonetheless, analysts at Goldman Sachs suggest that the 2yr outlook for inflation could be lifted and if so then participants could be presented with a steeper curve.
From a growth perspective, the latest GDP reading saw Q2 print at 0.7% Q/Q which has subsequently led to a more optimistic outlook for UK growth (also allied with a dissipation of fears surrounding Greece) and as such there could be a potential shift in expectations on this metric despite having been cut in the previous report for 2015 and 2016. Some commentators add that the latest figures could lead policy-makers to shrug off the disappointing Q1 reading of 0.4% and thus could provide one of the more hawkish elements of the release.
In terms of other metrics, hawkish tones could also be provided by any further mentions on slack which was seen as shrinking in the previous minutes release . With regards to wage growth, this may take somewhat of a back-seat this time round given that economists' view that little has changed on this front since the previous report in May.
Market Reaction
With so much to digest from the BOE later today, we need to find easy ways to try and break if down to see what impact the combined release of the BoE interest rate decision, minutes and Inflation Report could have on the markets.
 
Rather than try to track everything, we will be looking at 3 assets to determine the impact of Super Tuesday.
 
1, The Sonia rate
 
The Sonia rate is useful to look at today to get a sense of the market's expectations of UK interest rates in 3 months' time. If this is considered hawkish then Sonia rates should rise and the market may start to price in a potential rate hike before the end of this year, helping the UK to play catch up with US rate expectations.
 
Chart 1: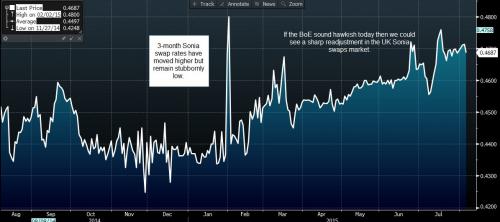 Source: City Index and Bloomberg
 
2, GBPUSD
 
Can a hawkish Carney take us out of this range?  We hope so, since GBPUSD has been as dull as dishwater recently. If the BoE talks tough on wage pressures and the need to get started on normalising interest rates then we think this could push GBPUSD outside of its range and back towards 1.60.
 
Chart 2: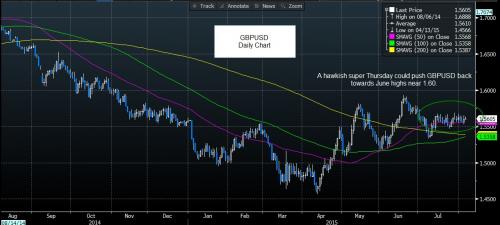 Source: City Index and Bloomberg
 
3, The performance of highly indebted, UK-listed companies such as Aggreko
 
This power generator leasing company has a high debt load, approx. 1/6th of its market cap. It has also suffered from weak profit growth, falling EBITDA margins and negative earnings per share growth in recent months. Could a hawkish BoE, and the threat of higher interest rates weigh on the share price, we think so. We will be watching the performance of Aggreko during Carney's speech and using the performance of its share price as a good gauge of whether the market thinks that higher interest rates are a near term possibility for the UK.
 
Chart 3: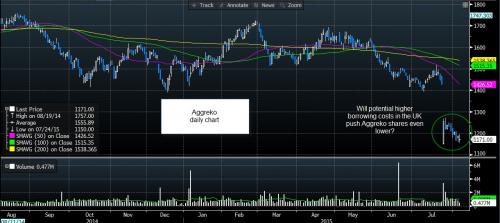 Source: City Index and Bloomberg