Net income declines 5% to $1.58 billion in second quarter
Morgan Stanley posted profit that beat analysts' estimates as the firm reported a surprise gain in bond-trading revenue and compensation costs that were lower than expected.
Net income fell 5 percent to $1.58 billion, or 75 cents a share, from $1.67 billion, or 79 cents, a year earlier, the New York-based company said Wednesday in a statement. That exceeded the 60-cent average estimate of analysts surveyed by Bloomberg.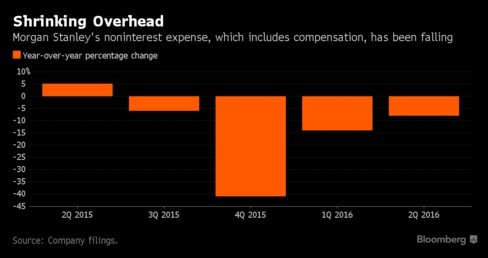 Chief Executive Officer James Gorman, 58, is cutting costs and trying to boost trading and wealth-management returns. He scaled back the struggling bond-trading division last year, and in January set a $1 billion cost-cutting goal. The effort paid off in the second quarter, as the ratio of compensation to revenue fell to 45.1 percent. That beat the 47 percent estimate of Chris Kotowski, an analyst at Oppenheimer & Co.
"We've seen Morgan Stanley cut back and cut back so it's very impressive that we're seeing this fixed-income performance," Brad Hintz, an adjunct professor of finance at New York University's Stern School of Business, said in a Bloomberg Radio interview.
Morgan Stanley climbed 0.6 percent to $28.35 at 10:03 a.m. The stock has dropped 10 percent this year...
More