After soaring some 100 points since the terrible Friday payrolls data, and nearly 6% in the past week...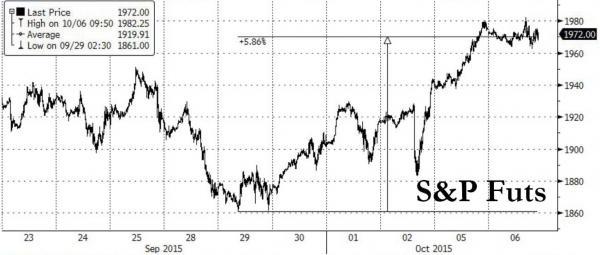 ... today the S&P went very much nowhere, even despite yet another solid push in the USDJPY overnight...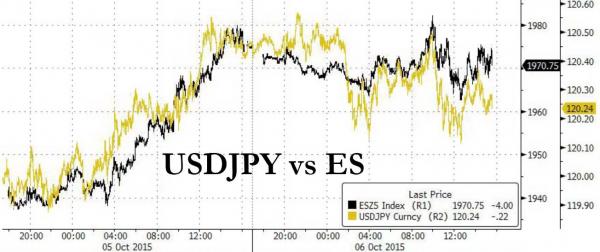 ... which was subsequently picked up by the 5Y as the correlation between TSYs and equities promptly became dominant while the announcement of the 12% cut in DuPont EPS served to push the stock as much as 12% higher on hopes the company will promptly agree to become the latest actvist fodder, one which will issue billions in debt to fund stock buybacks.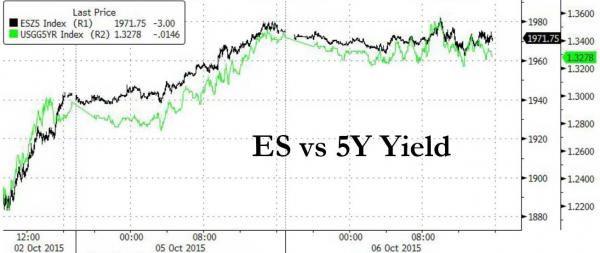 All throughout the day, the dollar index (DXY) continued to slide, and closed at the LOD, rapidly approaching the pre-FOMC level.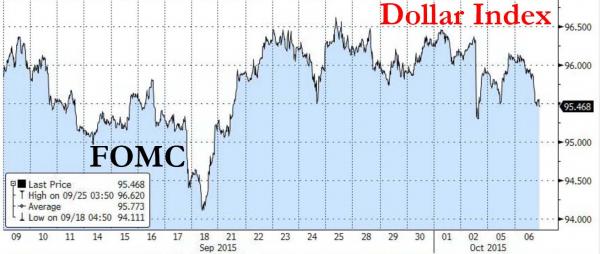 But the real story of the day was the bifurcation between momo stocks, manifested in this case by biotechs which were mauled once again, tumbling over 6% at the lows, and down 24% from the recent highs, closing fractionally down for the year...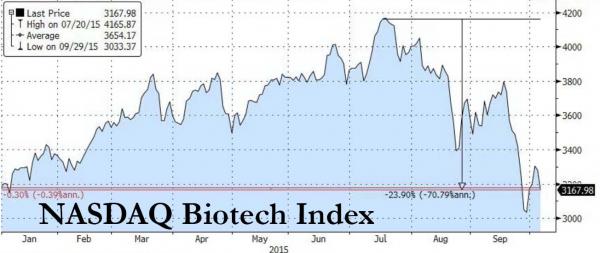 ... and crude oil, which soared over 6% from the day lows without a clear catalyst although there was speculation that geopolitical risks out of Syria where US and Russian planes are literally within dogfight distance, are finally catching up to oil traders.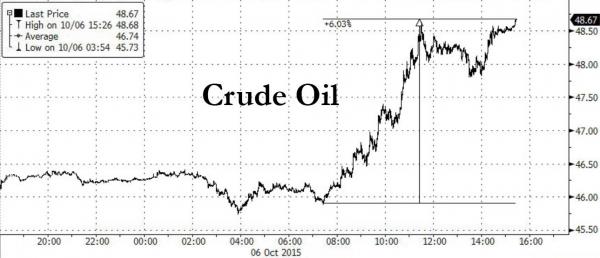 But perhaps the biggest, and most under-reported story, remains the unexpected demand for safety in the shape of 3Month bills, whose yields tumbled following the FOMC and have been increasingly negative in the days since, closing at -0.005%. Is the bond market really hinting at NIRP?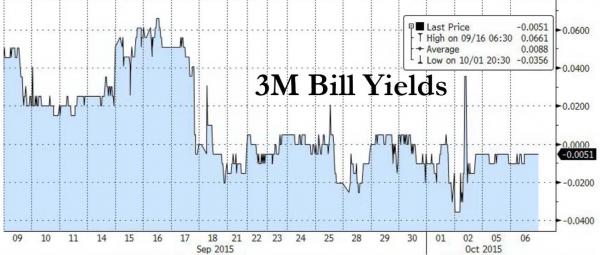 And now all eyes to the BOJ when tonight around 11pm Eastern, Japan's central bank is expected do and say precisely... nothing. After all, as we explained, this is the last bullet both the BOJ and the ECB have, and they will delay as long as possible before boosting QE, and would much rather leave the heavy lifting to the Fed.