Yesterday, in the aftermath of the latest disappointing economic data this time from the non-mfg ISM, Goldman surprised many when it cut its January non-farm payroll estimate from an above consensus 250K to a below consensus 210K (the Wall Street estimate is 230K), some scratched their heads why Goldman is now forecasting the lowest pace of job growth since August, and well below the 12 month trailing average of 246K. The answer may have something to do with this.
The US chief analyst of Nordea, Johnny Bo Jakobsen,
https://twitter.com/jbjakobsen/status/563415855770632192/photo/1
statistical finding:
in the past decade, consensus forecast over-estimated January reading on 9 out of 10 occasions.
As the chart below shows, the average overoptimistic consensus miss for January is just about 50K, with the last time consensus was lower than the final result taking place in 2012, and before that, one has to go all the way back to 2003 for the second payrolls "
beat
".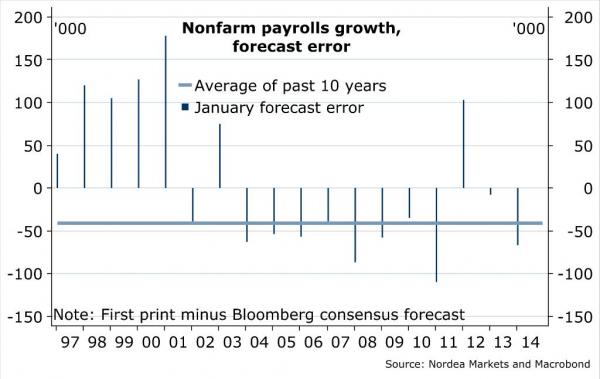 So will tomorrow be 10 out of 11, or will this time be different, as the BLS refuses to admit the crude reality of the shale patch for yet another month and hides the mass terminations that are taking place among energy companies with another layer of unprecedented seasonal adjustments?