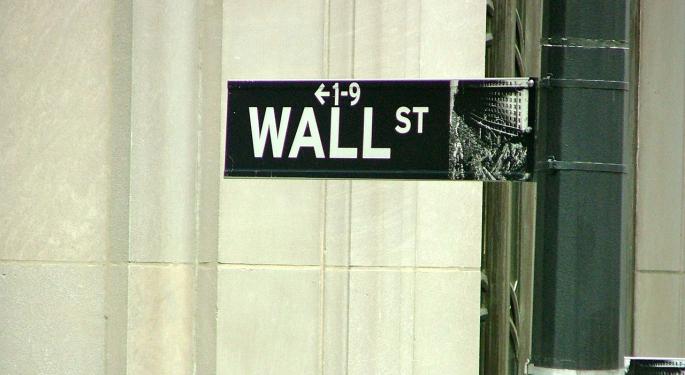 The market continued its recent pattern of low volatility on Wednesday as the Dow and S&P finished with very minor losses while the Nasdaq jumped in the wake of a better-than-expected earnings report from Apple Inc. AAPL 6.5%. Shares of the tech giant climbed 6.5 percent to $102.95.
The major news on the day was that the Federal Reserve left interest rates unchanged and said in a statement after the July FOMC meeting that economic headwinds have diminished. This may signal another increase in rates is on the horizon.
LogMein Inc LOGM 19.95% jumped 20 percent after the company reported strong earnings results and announced a merger. Shares of Twitter Inc TWTR 14.53% fell more than 14 percent after the company's Q2 earnings results disappointed the Street.
Major Averages
The Dow Jones Industrial Average lost less than 2 points on the session and closed at 18,472.
The S&P 500 fell less than 3 points, or 0.12 percent, and closed just below 2,167.
The Nasdaq climbed around 30 points on the day, or 0.58 percent, and closed at 5,140.
Durable Goods
Durable goods orders fell 4 percent in June, compared to a decline of 2.8 percent in the prior period. This was more than expected as the consensus was calling for a decline of 1 percent in durable orders. Excluding transportation, orders fell 0.5 percent compared to the consensus estimate of a gain of 0.2 percent.
Commodities
The commodity complex was weaker on Wednesday, continuing recent losses. The Bloomberg Commodity Index lost 0.71 percent.
NYMEX crude oil futures fell more than 2 percent to $42.00. Brent contracts lost a little more than 3 percent and were last trading at $43.49. Natural gas declined 1.50 percent to $2.67.
Precious metals traded higher on the day. At last check, gold futures were up $20.00, or 1.51 percent to $1,348.30. The SPDR Gold Trust ETF GLD 1.61% added 1.61 percent and the closed the equities session at $128.03. Silver futures surged almost 4 percent to $20.43. The iShares Silver Trust ETF SLV 3.8% closed up 3.80 percent to $19.37.
In the grains complex, corn and wheat were mixed. Corn futures added a little better than 1 percent to $3.4300 while wheat futures fell 0.06 percent to $4.1475. In soft commodities, cocoa was slightly positive while cotton futures fell a little more than a half percent.
Bonds
Treasury prices rallied after the FOMC rate decision. At the close of equities, the iShares Barclays 20+ Year Treasury Bond ETF TLT 1.25% had climbed 1.25 percent to $140.65, sending yields lower.
Treasury yields were as follows: The yield on the 2-Year Note was 0.73 percent. The 5-Year Note was yielding 1.10 percent. The 10-Year Note was last yielding 1.52 percent while the 30-Year Bond yield was 2.23 percent.
Currencies
The U.S. Dollar fell on the FOMC decision. The PowerShares DB US Dollar Index Bullish ETF UUP 0.48%, which tracks the performance of the greenback versus a basket of foreign currencies, fell 0.40 percent to $25.03 on the day. The closely watched EUR/USD pair added 0.66 percent to 1.1059 euros.
Volatility & Volume
The CBOE Volatility Index (VIX) shed 1.69 percent on Wednesday to 12.83. The VIX is currently trading near the bottom of its 52-week range of 10.88 to 53.29.
Volume was light on Wednesday with around 73 million shares of the SPDR S&P 500 ETF SPY 0.11% trading hands versus a 3-month daily average of 98 million shares. Trading in the PowerShares QQQ Trust QQQ 0.69% was close to average with around 23 million shares trading hands compared to a 3-month daily average of just over 25 million.
© 2016 Benzinga.com. Benzinga does not provide investment advice. All rights reserved.