A 5% bounce!  
That's what we're seeing in Europs since Thursday's lows as the Brexiteers retreat in the polls and we're having a HUGE rally across the board with a gap up into the open but kind of flat since, which does make me worry that this low-volume Monday action may reverse once again.
But, for now, let's just sit back and enjoy the show.  Remember, this all turned around due to the assassination of a British Member of Parliament, which froze the campaign and reversed the momentum that the Leave camp was making just in time for the Remain crowd to run another huge campaign over the weekend – all coincidental I have been assured and who am I to argue with people who might be arranging political assassinations to further their agenda, right?  

Of course, in the bigger picture (like this weekly chart of the same index), a 5% bounce is what we'd expect after a 1,000-point (27%) drop in European stocks since last summer and, using our 5% Rule™, that's what we call a weak bounce and we're not actually going to be impressed until we see the 3,200 line taken and held for more than a week.  
Until then, we'll keep a close eye on our local indexes, especially the S&P 500, which has to show us the money above 2,100 before we're going to believe this time is actually different.  You can see on the chart below, how often we have been teased up here and, right after the Brexit vote, which won't be final until Friday morning's count, we are heading right into earnings season and already this week we hear from ACN, ADBE, BBBY, BKS,  FDX, KBH, KMX, LEN, LZB, RHT, SONC and WGO – so we'll have an early picture on a few sectors for Q2.

Today's action is mainly the short squeeze that began last Thursday and we're on the wrong side of this as well – as we added hedges last week and cashed out a lot of longs but we cashed out over 2,100 on the S&P, so we're not missing anything as long as we're still below that line and I'm certainly not going to chase any longs with the vote results not in until Friday.  We also have Yellen's semi-annual testimony to Congress this week, tomorrow and Wednesday – and that's always fun as well.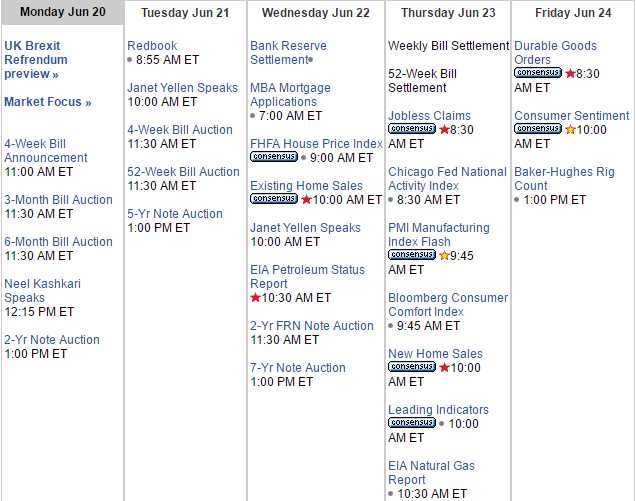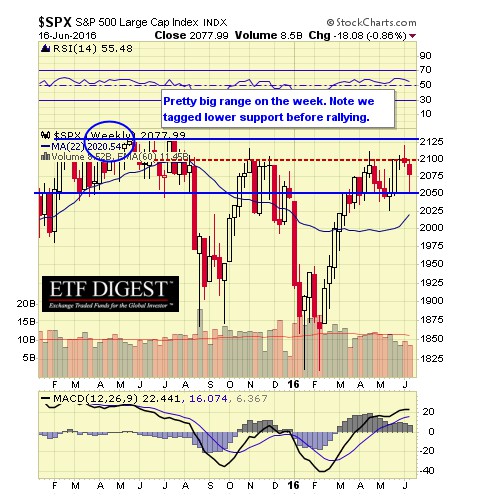 Not too much data this week so more focus on Brexit and earnings (aside from Yellen) than anything else.  We're still stuck in this 2,050 to 2,100 range on the S&P and, of course, the Bulls think we're consolidating for a move up and I would agree with them if I thought China were in good shape and Japan could handle it's debts and, of course, we have the uncertainty of the US elections – now just 4 months away.
We won't even mention the chaos in Venezeula or the way the Aug Olympics will focus the World's attention on Brazils faltering economy, not to mention the rapidly spreading Zika Virus.  If things do start getting better the Fed has pomised to raise rates – so we have that to look forward to as well.
It's certainly not that we're not finding opportunities for longs.  Just last Thursday, as well as Tuesday, we featured nice, bullish trade ideas for you on Apple (AAPL), right in our morning post (and again on Thursday) and, for our Members, last week we had long trade ideas on Gasoline Futures (/RB), Gasoline Futures (again), Gilead (GILD – should have a nice pop today), Index Futures (various and also mentioned in Thursday morning's post), Lumber Liquidators (LL),  Lumber Liquidators (again), Microsoft (MSFT), Nikkei Futures (/NKD), Nikke Futures (again), Nikkei Futures (again), Oil Futures (/CL)  Teekay Offshore (TOO), Valero (VLO)  along with a short idea on Treasuries (TLT) and long on Russell Ultra-Shorts (TZA), which is, of course, a short.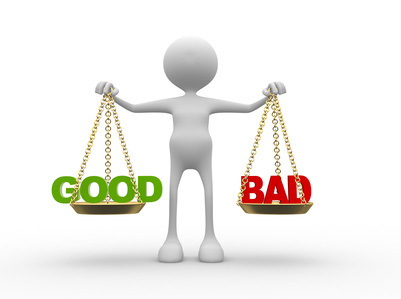 So that's 16 long trade ideas and the TLT shorts are also a long on the market against our one TZA hedge is a pretty good way to balance our portfolios – even in this insane market chop!  All of those longs should be doing insanely well today and, of course, we'll still be taking 1/3 of our bullish profits and putting them into more downside hedges becase we're not out of the woods yet – just in a small clearing that will hopefully last more than just the morning.
We remain very cashy and very cautious until all the Brexit ballots are cast and then it's earnings season and, if the market hasn't collapsed, we have plenty of money to go bargain-shopping on beaten-down stocks (like the ones we liked last week) and, if everything is truly awesome yet again – maybe even commodities (see "Secret Santa's Inflation Hedges for 2016").
Strap in for a very excting week!  
Provided courtesy of Phil's Stock World.
Would you like to read up-to-date articles on the day they are posted? Click here to become a part of our growing community and learn how to stop gambling with your investments. We will teach you to BE THE HOUSE - Not the Gambler!