The Q2 earnings season is slowly picking up pace, with results from 54 S&P 500 members, that account for more than 16.9% of the index's total market capitalization, already out.
The Picture So Far
As per the latest Earnings Trends, total earnings for these companies rose 11.9% from the same period last year on 5.5% higher revenues, with 79.6% beating earnings and 72.2% trumping revenue estimates.
Energy to Outshine Other Sectors
We have divided the S&P 500 Index into 16 Zacks Sectors. As per our report, among all the sectors, Oil/Energy is likely to be the biggest growth driver. While six of the sectors are projected to report a drop in year-over-year earnings, many are expected to see a slight hike. Meanwhile, the energy sector is likely to outperform the rest with year-over-year earnings growth of 276.2%. This will also mark a massive improvement from the last quarter's staggering earnings decline of 654.8%.
Research shows that during Q2, the Oil/Energy sector will likely generate quarterly earnings of $10.7 billion, much higher than $4.4 billion recorded during the April-to-June quarter of 2016. Overall, the sector has been showing a steady improvement in the bottom line since 2016.
Healthy Oil & Gas Performance in Q2
The oil and gas pricing scenario in second-quarter 2017 was much better than the year-ago comparable period.
Hopes of OPEC's production cut deal extension was the prime factor driving the year-over-year hike in prices during April and almost the entire of May. Market anticipations proved somewhat correct as OPEC and 11 non-OPEC players, including Russia, decided to extend the production cut deal until Mar 2018 in the Vienna meeting.
Natural gas also made a modest recovery in Q2 after the commodity hit its lowest annual average price in 2016 in almost 20 years.
Oilfield Service & Energy Explorers to Watch for Earnings
Let's see what's in store for two such companies expected to come up with second-quarter numbers on Jul 21. Let's take a look at how things are shaping up at their end.
The world's largest oilfield services company, Schlumberger Limited SLB is expected to report results before the opening bell. Other major oil services firms like Halliburton Company HAL, Weatherford International plc WFT and Baker Hughes, a GE company BHGE, will report their earnings next week. Together, the firms are called the 'big 4 oil service companies'.
In the first quarter of 2017, this Houston, TX-based oilfield service provider reported in-line earnings, which was supported by improvement in production of the Kuwait and Egypt developments and increase in directional drilling works in North America.
Our proven model shows that Schlumberger is likely to beat earnings because it has the combination of a Zacks Rank #3 (Hold) and Earnings ESP of +3.33%. You can uncover the best stocks to buy or sell before they're reported with our Earnings ESP Filter.
Schlumberger N.V. Price and EPS Surprise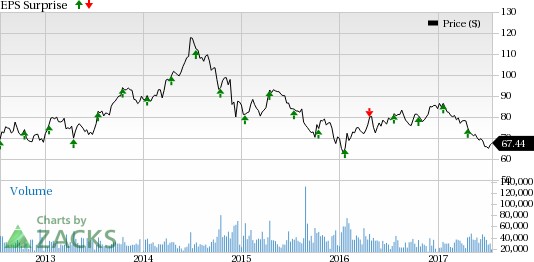 Schlumberger N.V. Price and EPS Surprise | Schlumberger N.V. Quote
Based in Calgary, Alberta, Encana Corporation ECA is a focused pure-play natural gas exploration and production (E&P) company. It is the second largest gas producer in North America and holds a highly competitive land and resource position in a number of the region's most promising shale and tight gas resource plays.
The company will also likely report its results before the opening bell. Last quarter, the explorer reported better-than-expected results following higher realized prices and reduced costs.
However, an earnings beat is uncertain for Encana this time as it has an Earnings ESP of -25.00% and a Zacks Rank #3. While a Zacks Rank #3 increases the predictive power of ESP, a negative ESP makes surprise prediction difficult. You can see the complete list of today's Zacks #1 Rank stocks here.
Encana Corporation Price and EPS Surprise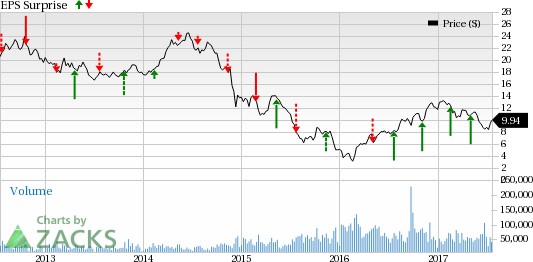 Encana Corporation Price and EPS Surprise | Encana Corporation Quote
Looking for Stocks with Skyrocketing Upside?
Zacks has just released a Special Report on the booming investment opportunities of legal marijuana.
Ignited by new referendums and legislation, this industry is expected to blast from an already robust $6.7 billion to $20.2 billion in 2021. Early investors stand to make a killing, but you have to be ready to act and know just where to look. See the pot trades we're targeting>>
Want the latest recommendations from Zacks Investment Research? Today, you can download 7 Best Stocks for the Next 30 Days.
Click to get this free report
Weatherford International PLC (WFT): Free Stock Analysis Report
Encana Corporation (ECA): Free Stock Analysis Report
Schlumberger N.V. (SLB): Free Stock Analysis Report
Halliburton Company (HAL): Free Stock Analysis Report
Baker Hughes Incorporated (BHGE): Free Stock Analysis Report
To read this article on Zacks.com click here.
Zacks Investment Research