Aquinox Pharmaceuticals (AXQP) is enjoying a wild ride.The stock gained nearly 2,000% from its closing price of $1.79 per share on Thursday.
The clinical stage pharmaceutical company is benefiting from its improved quarterly earnings and positive Phase 2 trial results of AQX-112, a drug for patients suffering from bladder pain syndrome/interstitial cystitis (BPS/IC).
The stock price of the Aquinox Pharmaceuticals surged as much as 400% on Friday after releasing its financial performance and up to 365% to $55.75 per share on Monday.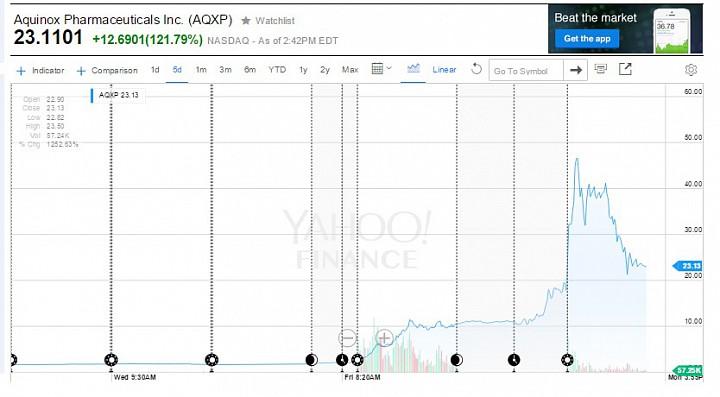 Aquinox Pharmaceuticals financial and clinical trial results
During the second quarter, Aquinox Pharmaceuticals reported that its net loss declined to $4.8 million from $5.4 million in the same period a year ago. The improvement was due to a decrease in research and development (R&D) expences.
Aquinox Pharmaceuticals reported that...
More