The last Housing Market Review covered data reported in June, 2017 for May, 2017. The month from there was relatively sedate for home builders. For example, the iShares U.S. Home Construction ETF (ITB) went absolutely nowhere with August's burst out the gate providing a bit of a gain. The good news is that the uptrend defined by the 50-day moving average (DMA) remains intact. The month was one of those validations of my decisions to switch to a monthly cadence for reporting on housing data: chasing the latest data point can cause far much more volatility in analysis than is necessary.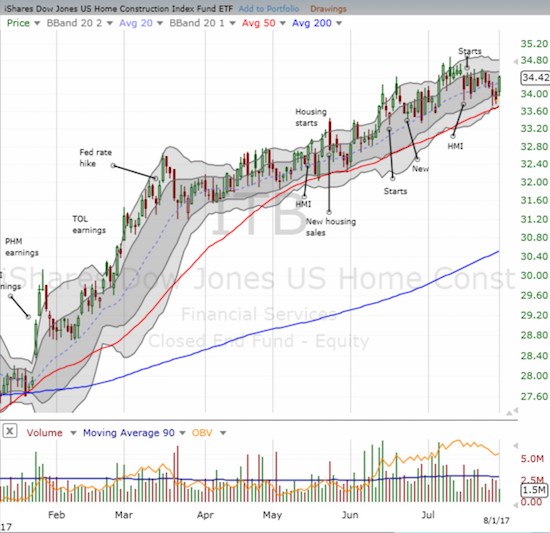 Source: FreeStockCharts.com
The key highlight of the month for me was the strong one-day reaction to housing starts and new home sales that continued to impress. Toll Brothers (TOL) almost became a low-light. I found myself at the edge of selling and locking in my profits. Fortunately I waited one day to see whether the market confirmed a breakdown below the uptrending 50-day moving average (DMA). The following day, TOL bounced sharply along with the rest of the home builder group.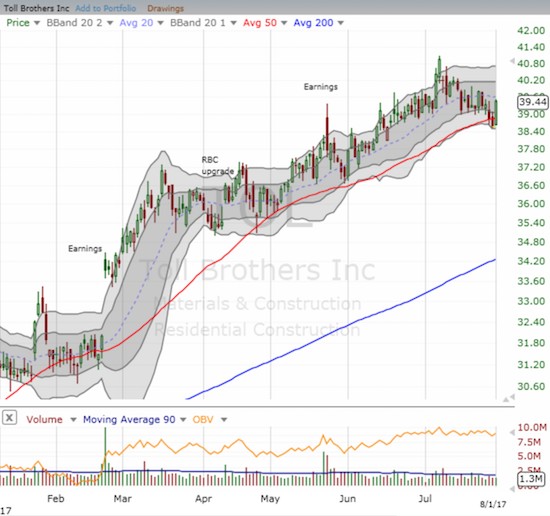 An imminent low-light comes in the form of the call options I bought on KBH Home (KBH). Despite my general ban on buying home builders in the "off-season" absent a significant sell-off, I decided to try to profit off continued momentum. KBH is up an incredible 47% year-to-date, but my call options will likely expire this month with little to no value given KBH's failure to continue its 2017 run-up.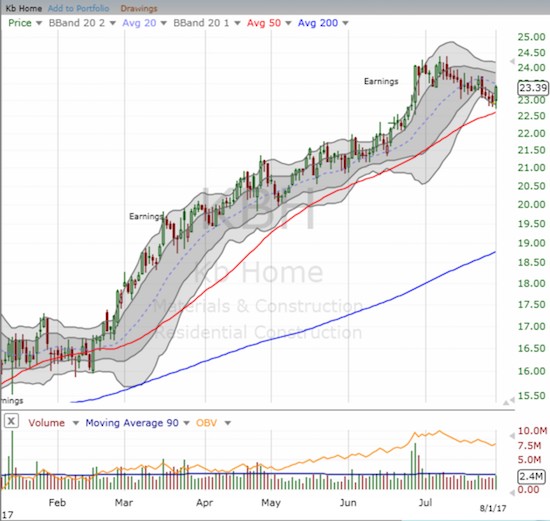 Overall, the housing data for the latest month was solid but not exciting enough to hold the attention of buyers. The end of the Spring selling season heightens the hurdle of interest – unless of course the news happens to be bad.
New Residential Construction (Housing Starts) – June, 2017
After three months of monthly declines, housing starts finally increased. The market reaction immediately reversed the losses on ITB from the surprisingly strong pullback in the wake of the HMI decline (see below). I was reminded that the market is always searching for a reason to dump housing stocks, especially after the seasonally strong Spring selling season.
Single-family housing starts for May were revised upward from 794,000 to 799,000. June starts increased month-over-month by 6.3% to 849,000. This change reaffirmed the on-going uptrend, and it wiped away a good deal of the previous three month's losses. On an annual basis, single-family housing starts increased a healthy 10.3%. This gain exceeded the previous three months of year-over-year gains. The previous year-over-year increases were 11.1% in January, 13.5% in February, and 9.3% in March, 8.8% in April, and 8.5% in May.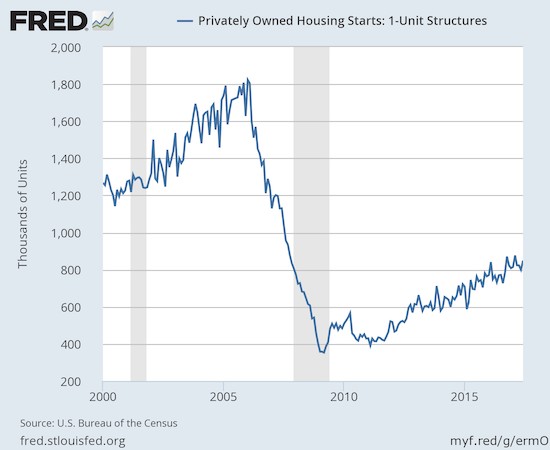 Source: US. Bureau of the Census, Privately Owned Housing Starts: 1-Unit Structures [HOUST1F], retrieved from FRED, Federal Reserve Bank of St. Louis, July 19, 2017.
After three months of wide deviations, the regional changes were more uniform for June. The Midwest, South, and West each jumped 17.5%, 8.5%, and 22.4% respectively. The Northeast cooled for a third month in a row this time with a whopping 19.2% decrease. The West has logged two months in a row of 22% annual gains. Looks like the market has heated up to finally deliver more housing to a very constrained marketplace (see below for similarly hot new home sales in the West).
Existing Home Sales – June, 2017
By now, regular readers should know the routine with the report on existing sales: sales decline because of a shortage of inventory and sales increase in spite of inventory shortages. For June, 2017, sales declined.
For January 2017, existing home sales hit levels not seen since February, 2007. For February 2017, existing home sales dropped sharply from the previous month's post-recession high and served up a reminder of the month-to-month volatility in this series. For March, existing home sales made a sharp rebound and set a new post-recession high (the highest in over 10 years). For April, the yo-yo dropped down slightly, in May it bounced up slightly, and in June it dropped down slightly again. On cue, the NAR switched to explaining the down-tick in sales but at least this time the NAR duly noted the year-over-year increase:
"Closings were down in most of the country last month because interested buyers are being tripped up by supply that remains stuck at a meager level and price growth that's straining their budget…The good news is that sales are still running slightly above last year's pace despite these persistent market challenges."
The seasonally adjusted annualized sales of 5.52M were down 1.8% month-over-month from 5.62M in sales for May (the revision resulted in no change). Year-over-year sales still increased 0.7% (compare to November's 15.4% year-over-year pop, December's 0.7% increase, January's 3.8% rise, February's 5.4% increase, March's 5.9% gain, April's 1.6% increase, and May's 2.7% increase). February sales dropped to levels last seen September, 2016 while March sales jumped to levels last seen February, 2007. April, May, and June sales seem to indicate levels will stay around 10-year highs for a while although one could reasonably...
More