Jeffrey Shih and Junho Choi epitomize a video-game subculture that helps explain whyAmazon.com Inc. (AMZN) just agreed to spend $970 million on Twitch Interactive Inc.
For seven hours every day, Shih, 27, sits at a computer at his home in the San Francisco Bay Area to broadcast himself playing games such as "Hearthstone" through online forum Twitch. More than 30,000 people tune in to watch him online each day, a number exceeding the capacity of many National Basketball Association arenas.
Choi, a 25-year-old from Brookings, South Dakota, is among Twitch's loyal viewers. He turns on Twitch for as many as 30 hours on weekends -- more than he watches Netflix or ESPN -- to follow his favorite players navigate games like "StarCraft" and "League of Legends."
"You know how people watch sports and get really into it? It's kind of like that atmosphere," Choi said, adding that video games are more appealing to him because they are easier to play than sports.
Choi and Shih illustrate how video-gaming, which began as a largely solitary experience shared between teenagers and their computers or gaming consoles, has now evolved into big-money live entertainment events. Top players earn $200,000 a year by fighting to dominate a futuristic world in "StarCraft" or by battling with a team in an online arena in "League of Legends." Competitions that draw the biggest gamers have pulled in more than 30 million viewers.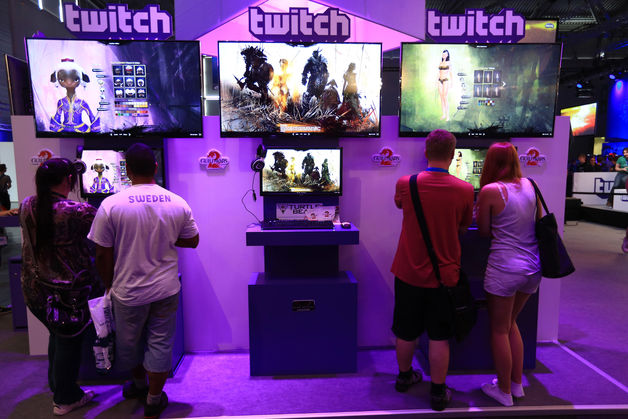 $2 Million
Twitch has helped fuel that rise, giving gamers a gathering point to watch and communicate, akin to a majorbroadcast network carrying NFL or NBA games and where viewers can interact with the players, said Michael O'Dell, the managing director of Team Dignitas, a professional video-game team that employs about 60 players. He said sponsorships from companies such asIntel Corp. (INTC) have shot up and his team made $2 million last year, about fourfold what it reaped before Twitch was introduced about three years ago.
"We have been chasing the mainstream for years and now it seems like the mainstream is chasing us," O'Dell said in an interview. As he spoke, one of his players was broadcasting himself practicing as 27,000 watched online.
In December, about a month after launching its PlayStation 4 console, Sony Corp. said there had already been almost 800,000 gameplay broadcasts and more than 7.1 million spectate sessions via video-streaming platforms like Twitch.
Hot Property
All of this underscores why San Francisco-based Twitch, which was largely unknown outside of the video-game industry, became the subject of a bidding war. Google Inc. (GOOGL) earlier this year held talks to acquire the startup, which investment banker Frank Quattrone introduced to other buyers, people familiar with the matter have said. In the end, Amazon emerged victorious, announcing earlier this week that it was paying $970 million in cash for Twitch in one of its biggest-ever deals.
Buying Twitch gives Amazon a highly engaged audience with more than 55 million monthly active users, video-gaming content and opportunities to sell advertising and to steer shoppers to its online store to buy a game. In a statement about the acquisition, Amazon Chief Executive Officer Jeff Bezossaid "broadcasting and watching gameplay is a global phenomenon."
Twitch works by providing software tools and a platform so people can broadcast themselves online while playing live from a computer, Xbox or PlayStation to anybody who wants to watch. A chat-room feature lets a player interact with those watching as they move through the game, explaining their moves.
Frustrated Love
Players with large Twitch followings typically have a unique style. Not all are professional gamers, or even that good. Some of the most popular are funny and entertaining, like Jayson Love, who makes the "MANvsGAME" series that has been viewed more than 42 million times. In the series, Love gets frustrated as he tries to beat different games. Others, like Shih, are more educational as they play, sharing tips for how to get past certain levels of a game.
"The appeal of Twitch is that you don't have to be the best gamer in the world to make a living as a broadcaster," said Chase, Twitch's spokesman who goes by just one name. "If you are entertaining and can engage your audience, you could be the worst player in the world and still be successful."
The idea to stream events live online has been touted in Silicon Valley for years, yet didn't take off until it was adjoined to video games. At its peak, Twitch's Internet traffic ranked fourth behind Netflix Inc., Google and Apple Inc. (AAPL), according to DeepField. Last year's Major League Gaming Winter Championships, a tournament that draws some of the world's best video-gamers, snagged 2.6 million viewers on Twitch and the championships for "League of Legends" drew 32 million on Twitch and other streaming services. More than 16 billion minutes of video is watched on Twitch each month, according to the company.
Career Path
Twitch makes money through advertising and subscriptions. Players like Michael Nolte who broadcast themselves through Twitch get a cut of the ad revenue that's shown while they play. Nolte, who made about $40,000 last year, said he gets letters from fans who follow along as he plays.
"Basically I started streaming because I wanted to have a way for my real-life friends to watch what game I was playing," Nolte, who plays seven days a week, said in an interview. "I had no intention of it becoming my job, but people just started coming in and watching me."
Autographs Galore
Shih won't say exactly how much he makes -- though it's enough for him to live by himself in a house in one of the most expensive regions in the U.S. At a gaming conference last year, he signed autographs and posed for photos with fans.
Along with the money and fame, Shih, who plays using the moniker "TrumpSC," said his parents aren't giving him such a hard time about his career path.
"They were dead set on me going to graduate school," he said. "So for me to say I'm going to broadcast computer games instead, you can kind of imagine someone who wouldn't understand that world to be very against it."
For Choi, a Korean translator who's planning to apply for dental school, there's entertainment value every time he clicks on Twitch. His favorite game is "StarCraft 2," where he can watch others control murderous creatures as they invade the galaxy and kill competitors.
"There's always something going on," he said.
http://www.bloomberg.com/news/2014-08-27/game-fans-30-hour-b...