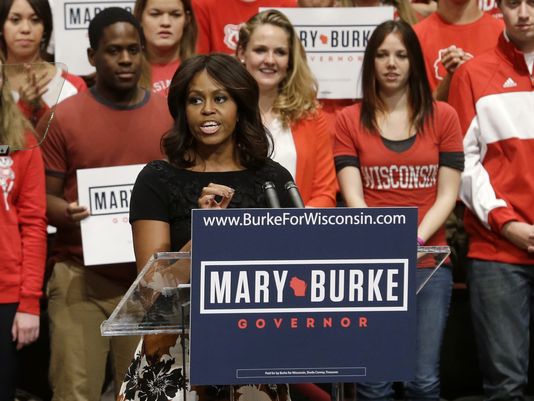 First Lady Michelle Obama took to the stump last week to campaign for Wisconsin gubernatorial candidate Mary Burke and while addressing a crowd of University of Wisconsin-Madison students she made some interesting claims about youth unemployment.
"By almost every economic measure, we are better off today than when Barack Obama took office," the Harvard Law graduate and former hospital executive declared.
"Our businesses have created more than 10 million new jobs since 2010; that's including the 236,000 jobs created last month alone. And this is the longest uninterrupted run of private-sector job growth in our nation's history."
So far so good.
The First Lady went on to note that "the unemployment rate for young people is down from a 10.6 percent high in 2009 to 2.6 percent today."
Wait.  What?
An official White House transcript reveals that the First Lady misspoke at the rally, claiming unemployment for "young people" was at 2.6 percent when really intending to say that it was at 6.2.  So she transposed the numbers; was her intended number right?
Is she right?  Eh, kind of.  But not really.
While it's true that the overall unemployment rate is down to 5.9 percent as of September 2014, a welcome change from the September 2009 high of 9.8 percent, the numbers amongst youth are a little bleaker.  Of course, the First Lady didn't cite the youth unemployment rate specifically, but referred to "young people".  Well, some young people are younger than other young people.  Those are the ones in trouble.
The unemployment rate amongst those aged 25 to 34 years has, in fact, fallen to 6.2 percent from the 10.4 percent that existed in September 2009 and the 10.6 percent of October 2009.  However, as PolitiFact outlined on Sunday, those aged 16 to 24 are still not doing particularly well.  While that age group's unemployment rate is down to 13.7 percent in September 2014 from 18.4 percent in September 2009, its still over five times more than that idyllic 2.6 and more than double the 25-34 range of 6.2.

Hey, no one said these years were easy.