Boston Beer Co. Inc. SAM is the largest premium craft brewer in the U.S., and commands a strong portfolio of globally recognized brands. Apart from selling alcoholic beverages in the U.S., the company distributes its beverages in Canada, Europe, Israel, Caribbean, Pacific Rim, Mexico, and Central and South America through a strong network of wholesale distributors.

However, the company has been recently reeling under soft depletion trends, which is dragging down its performance. This softness can primarily be attributed to weakness in the Samuel Adams brand, soft craft beer and cider categories, alongside a troubled retail backdrop. The competition in the craft beer segment has intensified as new craft brewers are entering the market and existing ones are expanding their distribution and tapping capacities, providing more options for drinkers.

The cumulative impact of this is quite visible in Boston Beer's stock performance, which has underperformed the broader industry in the last six months. Shares of this Massachusetts-based beer company have declined 15.7%, while the Zacks categorized Beverages – Alcohol industry registered a 8.8% growth. Moreover, the stock has considerably lagged the Zacks categorized Consumer Staples sector's gain of 8.5%.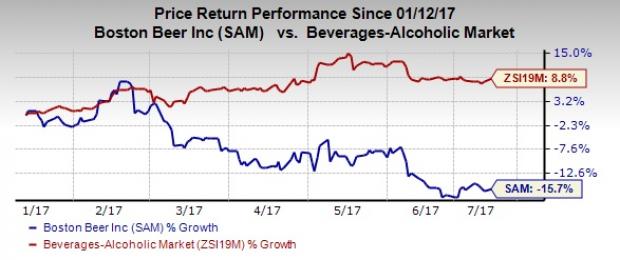 Further, the company posted year-over-year decline in earnings and sales in first-quarter 2017. While bottom-line results were hurt by lower revenues and soft gross margin, the top line was impacted by lower shipments and fall in depletions. Moreover, the company has been witnessing contraction in the gross margin for five straight quarters now. The company anticipates gross margin for 2017 to range from 51–52% backed by increased cost savings. The soft margin poses threats to the company's future performance.

Additionally, the company notes that the soft depletion trends have continued into second-quarter 2017. Depletions through the 15 weeks ended Apr 15, 2017 have declined nearly 13% from the comparable year-ago period in 2016. Based on these trends, the company remains uncertain about volumes and profitability for 2017. Consequently, the company reiterated earnings per share, as well as depletions and shipments view for 2017.

Growth Efforts Show Promise

Nonetheless, we expect Boston Beer's continued focus on pricing, product innovation and brand development to boost operational performance and position in the market. The company's three point growth plan which focuses on revival of Samuel Adams and Angry Orchard brands, cost saving initiatives and long-term innovation, show promise.

Firstly, the company is keen on reviving the Samuel Adams and Angry Orchard brands through packaging, innovation, promotion and brand communication initiatives. Additionally, it continually reviews brand strategies and activation plans to confirm that its investments are effective and efficient in structuring long-term brand equities.

Secondly, the company has accelerated focus on cost savings and efficiency projects, while ensuring that these savings are directed for further brand development. Based on the company's ongoing cost savings programs across the organization, it anticipates increasing gross margin by 1% every year over the next three years. The company's third priority is long-term innovation, wherein it's currently focusing on maintaining the leadership of its Truly Spiked & Sparkling brand and ensuring the brand reaches full potential.

Further, we believe the company's practice of acquiring assets to expand geographically will aid it to gain significant market share. Moreover, its brand-building efforts and initiatives to add new products remain key revenue drivers.

Conclusion

Given the ongoing troubles as well as the company's efforts to overcome the same, we think the stock rightly carries a Zacks Rank #3 (Hold). Hence, we suggest holding on to the stock till its revival efforts began to reflect in its performance.

Better-ranked stocks in the same industry include Craft Brew Alliance, Inc. BREW, sporting a Zacks Rank #1 (Strong Buy), while Carlsberg AS CABGY and Constellation Brands Inc. STZ, both carry a Zacks Rank #2 (Buy). You can see the complete list of today's Zacks #1 Rank stocks here.

Craft Brew Alliance has gained nearly 28.6% in the last three months. Also, the company's estimates for the current fiscal have witnessed positive estimate revisions in the last 60 days.

Carlsberg has a long-term EPS growth rate of 7.3%. Further, the company has surged 10.6% in the last three months.

Constellation Brands has witnessed an increase of 13.8% in the last three months. Further, the stock has a long-term growth rate of 18.2% and recorded an average beat of 11.7% in the trailing four quarters.

More Stock News: 8 Companies Verge on Apple-Like Run

Did you miss Apple's 9X stock explosion after they launched their iPhone in 2007? Now 2017 looks to be a pivotal year to get in on another emerging technology expected to rock the market. Demand could soar from almost nothing to $42 billion by 2025. Reports suggest it could save 10 million lives per decade which could in turn save $200 billion in U.S. healthcare costs.

A bonus Zacks Special Report names this breakthrough and the 8 best stocks to exploit it. Like Apple in 2007, these companies are already strong and coiling for potential mega-gains. Click to see them right now >>
Want the latest recommendations from Zacks Investment Research? Today, you can download 7 Best Stocks for the Next 30 Days.
Click to get this free report
Constellation Brands Inc (STZ): Free Stock Analysis Report
Craft Brew Alliance, Inc. (BREW): Free Stock Analysis Report
Carlsberg AS (CABGY): Free Stock Analysis Report
Boston Beer Company, Inc. (The) (SAM): Free Stock Analysis Report
To read this article on Zacks.com click here.
Zacks Investment Research