Share price of San Jose, CA-based Align Technology, Inc. ALGN reached a new 52-week high of $157.86 on Jul 17, eventually closing a bit lower at $156.21. The company has gained 4.3% over the past month, outperforming the S&P 500's gain of 0.2%. The stock has a market cap of $12.55 billion.
Over the last one month, Align has outshined the Zacks categorized Medical - Dental Supplies industry with respect to share price movement. The stock has climbed 4.3%, way higher than the broader industry's gain of 2.9%.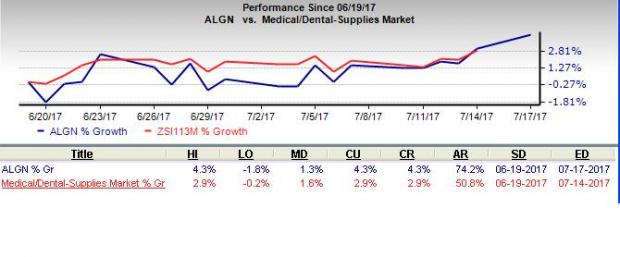 Further, Align's estimate revision trend for the current quarter is favorable. In the past 60 days, two estimates have moved up with no downward revision. However, the magnitude of estimate revision over the same time period has remained pegged at 73 cents per share.
The company also has a trailing four-quarter average positive earnings surprise of 19.89%.
Additionally, Align's long-term growth fundamentals are compelling. The Zacks Rank #2 (Buy) company recorded a long-term historical growth rate of 16.6% for revenues as compared to the broader industry's 9.6% gain. The long-term historical growth rate for earnings is at 18%, compared to the industry's average of 10.9%.
The company has an impressive Growth Style Score of 'B'. Our Growth Style Score highlights all the vital metrics of the company's financials to obtain a clearer picture of the quality and sustainability of its growth. Our research shows that stocks with Style Scores of 'A' or 'B' when combined with a Zacks Rank #1 (Strong Buy), 2 or 3 (Hold) offer the best investment opportunities.
Growth Drivers
We believe the 52-week high came on the back of its recent series of developments. Align announced its addition to the prestigious S&P 500 Health Care Supplies Sub-Industry Index in Jun 2017.
In the same month, the company announced another encouraging step toward strengthening its position in the Invisalign brand – the company's most popular offering. In keeping up with the company's strategies of expansion and investment in the rapidly growing Asia-Pacific region, Align announced plans to build its first Invisalign manufacturing facility in China.
We are upbeat about the receipt of two U.S. patents for Align's SmartTrack aligner material that is used exclusively for Invisalign aliner treatment in May 2017. Moving on, in a bid to gain traction in the same platform, in Mar 2017, Align collaborated with Digital Smile Design. Post-collaboration, Align's Invisalign clear aligner treatment will be used by dentists during tooth align procedures along with Smile Design protocols.
Moreover, to expand its Invisalign brand offerings, Align introduced a patient-friendly solution – Invisalign Teen Solution with mandibular advancement – for teen patients in Mar 2017.
The company has also expanded work flow options of its leading iTero scanners. In May 2017, the company introduced a software upgrade for its iTero Element intraoral scanners based on the sophisticated TimeLapse technology. In this context, Align collaborated with exocad GmbH in Mar 2017, whereby the integrated portfolio will result in high-tech workflow solution for efficient scanning, design and manufacturing of in-house dental prosthesis.
All these factors are expected to boost the company's share price.
Key Picks
Other top-ranked medical stocks are Mesa Laboratories, Inc. MLAB, INSYS Therapeutics, Inc. INSY and Stryker Corporation SYK. Notably, Mesa Laboratories and INSYS Therapeutics sport a Zacks Rank #1 (Strong Buy), while Stryker Corporation carries a Zacks Rank #2. You can see the complete list of today's Zacks #1 Rank stocks here.
Mesa Laboratories has a positive earnings surprise of 2.84% for the last four quarters. The stock has added roughly 8.5% over the last three months.
INSYS Therapeutics has a long-term expected earnings growth rate of 20%. The stock has gained around 18.8% over the last three months.
Stryker Corporation has an expected long-term adjusted earnings growth of almost 9.56%. The stock has added roughly 2.4% over the last month.
5 Trades Could Profit "Big-League" from Trump Policies
If the stocks above spark your interest, wait until you look into companies primed to make substantial gains from Washington's changing course.
Today Zacks reveals 5 tickers that could benefit from new trends like streamlined drug approvals, tariffs, lower taxes, higher interest rates, and spending surges in defense and infrastructure. See these buy recommendations now >>
Want the latest recommendations from Zacks Investment Research? Today, you can download 7 Best Stocks for the Next 30 Days.
Click to get this free report
Mesa Laboratories, Inc. (MLAB): Free Stock Analysis Report
Stryker Corporation (SYK): Free Stock Analysis Report
Insys Therapeutics, Inc. (INSY): Free Stock Analysis Report
Align Technology, Inc. (ALGN): Free Stock Analysis Report
To read this article on Zacks.com click here.
Zacks Investment Research