Goldman Sachs downgraded L Brands. If somebody doesn't know, L Brands owns the Victoria Secret brand. But anyway, the stock still has a 10% upside, Goldman just removed it from the "Conviction Buy" list. How can they do it with this pretty girls from their website?
"Little disappointed that Goldman goes from 'Conviction Buy' to 'hold' L Brands, said TheStreet.com's Jim Cramer. "This stock has now been in just a tremendous vortex down."
Analyst Lindsay Drucker Mann cut her rating to neutral, after being at buy for the last 16 months, and removed the stock from the firm's conviction list. Although Mann expects the restructuring moves will create value long term, some of the moves, such as reduced promotions, could hurt sales near term until customers are weened off the promotions. [Marketwatch]
To be honest, I need to analyze the stock, but take a look at their financials: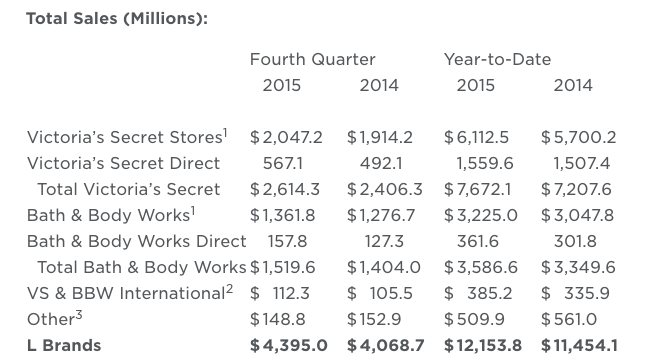 Revenue is going up significantly, the company has over $12B in sales while the company keeps stable their operating margins. I think that this is just a great value stock to own. We can't wait for a significant growth, but if you want to own a value stocks - that should be in your list.