Microsoft Corporation MSFT reported fourth-quarter fiscal 2017 earnings (adjusted for Windows 10 deferrals and impairment & restructuring charges) of 98 cents per share, which beat the Zacks Consensus Estimate by 27 cents.

Earnings per share (EPS) increased 42% (43% in constant currency or CC) on a year-over-year basis and 34.2% on a sequential basis. EPS included tax benefit of 23 cents related to earlier losses that the company incurred on its phone business

Revenues (adjusted for Windows 10 deferrals and impairment & restructuring charges) of $24.70 billion increased 4.9% sequentially and 9.1% from the year-ago quarter (up 10% in CC). Further, it exceeded the Zacks Consensus Estimate of $24.19 billion. Unfavorable foreign exchange impacted revenues by 1%.

Microsoft reported revenues of $96.66 billion in fiscal 2017, which increased 5% over fiscal 2016. The company ended the year with $15 billion in commercial cloud revenue.

We note that strong cloud growth has aided Microsoft to outperform the S&P 500 on a year-to-date basis. While the company has gained 18.6%, the S&P 500 witnessed an increase of 10.7%.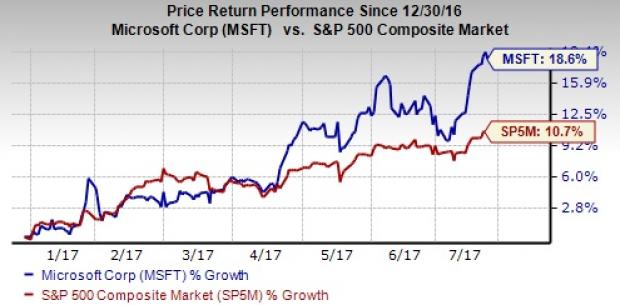 Azure, Office 365 Drives Growth

Productivity & Business Processes includes the Office and Dynamics CRM businesses. Revenues increased 6.1% sequentially and 21.2% (up 23% CC) on a year-over-year basis to $8.45 billion. The figure was slightly better than management's guided range of $8.2–$8.4 billion.

The Commercial business (products + Office 365 & related cloud services) revenue was up 5% from year-ago level (up 6% CC). Office 365 commercial revenue grew 43% (44% at CC). Office 365 saw commercial seat growth of 35% from the year-ago quarter.

Microsoft Corporation Price, Consensus and EPS Surprise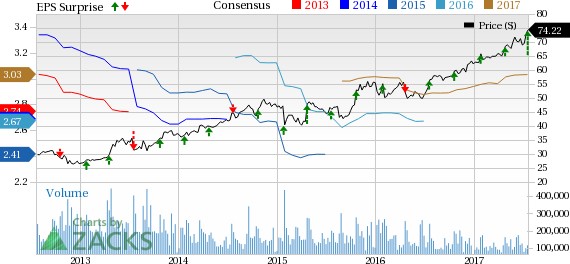 Microsoft Corporation Price, Consensus and EPS Surprise | Microsoft Corporation Quote
For the first time, Office 365 Commercial revenue surpassed revenues from Microsoft's traditional licensing business. The company noted significant increase in SharePoint usage, which nearly doubled on a year-over-year basis.

Office 365 adoption remained strong, with Quicken Loans, Key Bank and Deutsche Telekom being added to the customer base. The company launched Microsoft Teams in Office 365 for Education during the quarter.

The Consumer business revenue advanced 13% (same at CC) year over year in the quarter. Office 365 consumer subscribers are now at 27 million, up from 26.2 million in the previous quarter.

Dynamics and cloud services revenue jumped 7% (9% at CC). Dynamics 365 revenues soared 74% (75% at CC). Microsoft added prominent companies like HSBC, Best Buy BBY and Dolce & Gabbana to customer base.

LinkedIn contributed revenues of $1.1 billion, up from $975 million in the quarter and was better than management's guidance of $1.05 billion. Talent Solutions witnessed record level growth in confirmed hires and InMail response rates this quarter.

Management noted continued momentum in mobile and strong engagement across the LinkedIn platform, with sessions up more than 20% for the third consecutive quarter.

Microsoft launched a new messaging overlay, which resulted in record levels of messages sent on LinkedIn. The company also introduced a career advice marketplace that offers professional expertise of more than 500 million members globally.

Recently, the company launched Microsoft 365, which brings together Office 365, Windows 10 and Enterprise Mobility & Security in a complete, secure solution. The product has already been selected by the likes of Fed-Ex, Dow Chemical, Staples and Progressive Insurance.

Moreover, the company also launched Microsoft Relationship Sales solution, which now brings together LinkedIn Sales Navigator and Microsoft Dynamics, as well as Dynamics 365 solutions for Retail and Talent.

Apart from these, the company launched ISV Cloud Embed, which makes it easier for partners like Indegene, to modernize existing business applications and build new ones utilizing Dynamics 365, Power BI, Power Apps and Microsoft Flow.

Intelligent Cloud includes server, and enterprise products and services. The segment reported revenues of $7.43 billion, up 9.9% sequentially and 10.8% (up 12% at CC) year over year. The figure was slightly better than management's guided range of $7.2–$7.4 billion.

Commercial cloud annualized revenue run rate now exceeds $18.9 billion, up 56%, which keeps Microsoft on track to achieve its target of $20 billion in commercial cloud ARR in fiscal 2018.

Server product and cloud services revenue went up 15% year over year (up 16% at CC). The high point was Azure revenue, which soared 98% at CC on a year-over-year basis. Microsoft noted that Azure premium revenue grew triple digits for the 12th consecutive quarter.

Management stated it won the highest number of multi-million-dollar Azure deals to date in the quarter. Annuity mix was 86%, up 3% on a year-over-year basis. As a result, commercial bookings grew 30%, and commercial unearned revenue was $27.8 billion, significantly higher than Microsoft's expectation. Contracted un-billed balance increased to more than $31.5 billion.

Adoption remains strong as evident from the growing customer base. Azure has been selected by the likes of AXA Global, KPMG, Dun & Bradstreet, Hearst, Walgreens, T-Mobile and Sephora during the quarter.

During the quarter Box BOX announced that it will bring its content and collaboration services to Azure. The company plans to implement Microsoft's AI to simplify discovery and use of all types of content across the enterprise.

Recently, Baidu BIDU announced that it will use Azure to take its autonomous driving platform worldwide.

Meanwhile, enterprise service revenue slipped 3% (down 1% at CC) in the reported quarter, due to declines in custom support agreements related to Windows 2003.

More Personal Computing comprises mainly the Windows, Gaming, Devices and Search businesses. Revenues were almost flat sequentially and declined 1.6% (down 1% CC) year over year to $8.82 billion. The figure was better than management's guided range of $8.4–$8.7 billion.

Windows OEM pro revenues increased 1% (up 1% at CC) on a year-over-year basis, slightly ahead of the overall PC market. Windows commercial products and cloud services revenues increased 8% on a year-over-year basis (same at CC) backed by healthy enterprise demand as customers continued to deploy Windows 10 for advanced security and management capabilities.

Enterprise and education deployments increased 33% in the last quarter, as companies like NASCAR, Emirates Airline, BMW Group and Bank of China all adopted Windows 10.

Microsoft introduced Windows 10 S, which streamlined for simplicity, security and superior performance and tailored for the classroom. In partnership with Acer, ASUS, Dell, Fujitsu, HP, Samsung, and Toshiba, the company plans to introduce a new class of modern devices that enable affordable, powerful new scenarios from Windows ink to 3D.

Gaming revenue increased 3% (4% at CC) as strength in Xbox software and services offset lower hardware revenue. Xbox Live monthly active users were up 8% to 53 million active users.

Surface revenue decreased 2% (down 1% at CC) from the year-ago quarter primarily due to product lifecycle transitions. The company introduced Surface Laptop and the new Surface Pro during the quarter.

Search excluding traffic acquisition costs (TAC) revenue grew 10% (up 11% at CC) as both search volume and revenue per search (RPS) improved.

Operating Results

Microsoft's gross margin of 63.7% expanded 20 basis points (bps) sequentially and 240 bps from the year-ago quarter, primarily owing to favorable revenue mix along with commercial cloud margin improvement.

Commercial cloud gross margin in dollar terms grew 92% from strength across all services. Gross margin percentage was 52%, up 10 points year over year.

Operating expenses (excluding Impairment, integration, and restructuring costs) of $9.23 billion were up 9.4% sequentially and 9.2% from the year-ago quarter. The year-over-year growth was driven by LinkedIn related acquisition charges ($343 million). As percentage of revenues, operating expenses increased 140 bps on a sequential basis but decreased 140 bps from the year-ago quarter.

As a result, operating margin contracted 120 bps sequentially but surged 380 bps on a year-over-year basis to 24.2%.

Balance Sheet

Microsoft ended with cash and short-term investments balance of $136.9 billion, down $3.9 billion from the previous quarter. The company returned $4.6 billion to shareholders in the form of share repurchases and dividends in the reported quarter.

Guidance

Management expects foreign exchange to impact revenues by 1% in fiscal 2018.

The company anticipates that increasing demand for cloud services and healthy renewals to drive a higher annuity mix in the commercial business. Commercial transactional business will continue to decline due to the transition to the cloud. Commercial cloud gross margin percentage is expected to improve.

Gross margin percentage is projected to decline by a point in fiscal 2018 with increasing cloud revenue mix, a full year of LinkedIn amortization and hardware launches including the new console, Xbox One X. Management expects LinkedIn quarterly amortization expense in COGS to be approximately $220 million, or about $880 million for the fiscal year.

Microsoft's operating expense is anticipated to grow between 3% and 4%, reflecting continuing investments. LinkedIn expense is projected to increase. Management expects to recognize $620 million of amortization expense in fiscal 2018.

Operating margin is projected to decline by about a point as cloud revenues continue to grow, fund new investment to support growth in strategic areas and absorb $1.5 billion of LinkedIn amortization in COGS and opex. Excluding the LinkedIn impact, operating margin is expected to be flat year over year. Management expects LinkedIn, ex-purchase accounting, to be non-dilutive in fiscal 2018.

Microsoft plans to increase capital investment to meet growing demand and capacity needs.

For the first quarter, Microsoft expects less than 1 point of negative impact on revenue growth overall and for each segment. The company projects commercial unearned revenue to be within the range of $24.85 to $25.05 billion.

In Productivity and Business Processes, Microsoft expects revenues between $8.1 and $8.3 billion. Office 365 commercial revenue growth will continue to be driven by install base growth, ARPU expansion and adoption of premium services like E5, and is projected to outpace the rate of transactional decline.

Moderate growth rate is expected in Office consumer business Dynamics 365 will continue to drive Microsoft's cloud mix higher. Management expects approximately $1.1 billion of revenue from LinkedIn.

For Intelligent Cloud, Microsoft expects revenues between $6.9 and $7.1 billion. Management anticipates another quarter of double-digit revenue growth across server products and cloud services. Enterprise Services revenue will continue to decline, given lower volumes of custom support agreements.

More Personal Computing revenues are projected to be between $8.6 billion and $8.9 billion. Management anticipates OEM revenues to be more closely in line with the PC market. Surface revenue will continue to be driven by the product lifecycle transition between Pro 4 and the new Surface Laptop and Surface Pro.

In Search, Bing's revenue growth ex-TAC is expected to be similar to prior quarters. Seasonality will hurt gaming revenues.

Microsoft expects COGS between $8.2 billion and $8.3 billion, including approximately $400 million from LinkedIn. LinkedIn COGS include about $220 million of amortization.

Management expects operating expenses of $8.6–$8.7 billion, with about $1 billion from LinkedIn, of which roughly $155 million is related to amortization.

Zacks Rank

Microsoft currently sports a Zacks Rank #1 (Strong Buy). You can see the complete list of today's Zacks #1 Rank stocks here.
Will You Make a Fortune on the Shift to Electric Cars?
Here's another stock idea to consider. Much like petroleum 150 years ago, lithium power may soon shake the world, creating millionaires and reshaping geo-politics. Soon electric vehicles (EVs) may be cheaper than gas guzzlers. Some are already reaching 265 miles on a single charge.
With battery prices plummeting and charging stations set to multiply, one company stands out as the #1 stock to buy according to Zacks research.
It's not the one you think.
Want the latest recommendations from Zacks Investment Research? Today, you can download 7 Best Stocks for the Next 30 Days.
Click to get this free report
Box, Inc. (BOX): Free Stock Analysis Report
Microsoft Corporation (MSFT): Free Stock Analysis Report
Best Buy Co., Inc. (BBY): Free Stock Analysis Report
To read this article on Zacks.com click here.
Zacks Investment Research