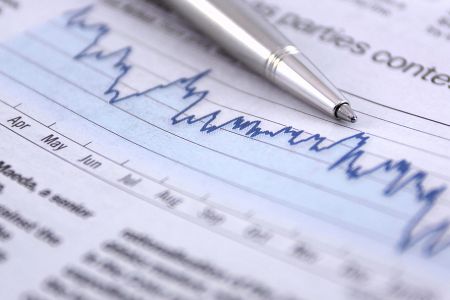 Oil bounces from significant support around $35 as unexpected drawdown fuels hopes of an earlier than average peak in inventories.
**NEW** As part of the ongoing process to offer new and up-to-date information regarding seasonal and technical investing, we are adding a section to the daily reports that details the stocks that are entering their period of seasonal strength, based on average historical start dates.   Stocks highlighted are for information purposes only and should not be considered as advice to purchase or to sell mentioned securities.   As always, the use of technical and fundamental analysis is encouraged in order to fine tune entry and exit points to average seasonal trends.
Stocks Entering Period of Seasonal Strength Today:
No stocks identified for today
Upcoming BNN Appearance:
I will be on BNN's Market Call Tonight at 6:00pm today (Thursday) taking your calls on Technical Analysis and Seasonal Investing.  CALL TOLL-FREE 1-855-326-6266,  EMAIL marketcall@bnn.ca,  or TWEET @MarketCall  Be sure to send in your video questions for priority response on air.
The Markets
Stocks ended higher on Wednesday with the S&P 500 Index bouncing from its rising 20-day moving average, a level of support that has proven to be very pivotal to the short-term trend since the market bottomed in February.  As highlighted yesterday, momentum indicators continue to roll over, suggesting waning buying pressures.  With the number of levels of resistance directly overhead combined with levels of support directly below at major moving averages, it may take a catalyst to fuel a break, either above the 2080 to 2100 zone of resistance or below the 2020 to 2040 range of support.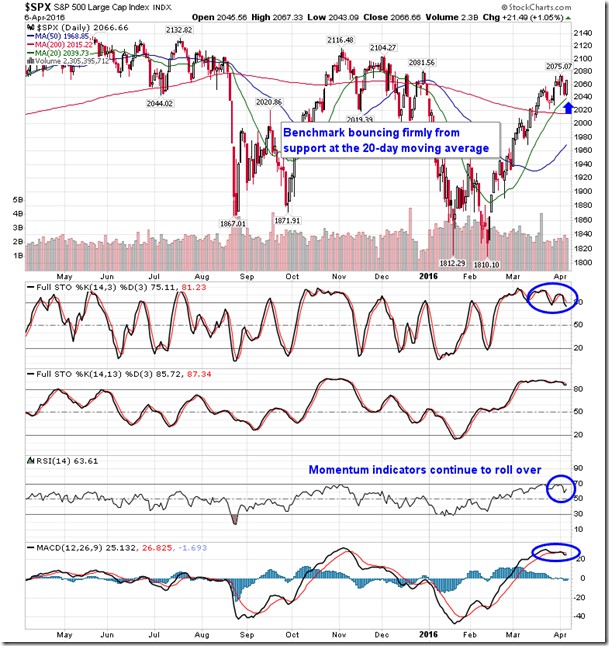 "Fuelling" gains on the day was strength in the energy sector following an unexpected drawdown in crude inventories.  Crude oil inventories declined by 4.9 million barrels last week, reversing a trend of inventory builds that has dominated since the start of the year.  The days of supply of the commodity ticked lower for a second week, falling to 32.9 from 33.4 previous.  Helping alleviate bloated supplies of the energy commodity is the continued decline in domestic production, which is hovering 2.2% below the average pace through to the start of April.  Last week we suggested that the peak in oil inventories would be realized within the next month; this report further confirms that supply and demand fundamentals are starting to converge with the days of supply rolling over and supply side pressures, at least in the US, becoming much less of a factor in flooding the market.  The price of WTI Crude has bounced firmly from around $35, cementing the previous level of resistance that was evident at the end of January as a level of support.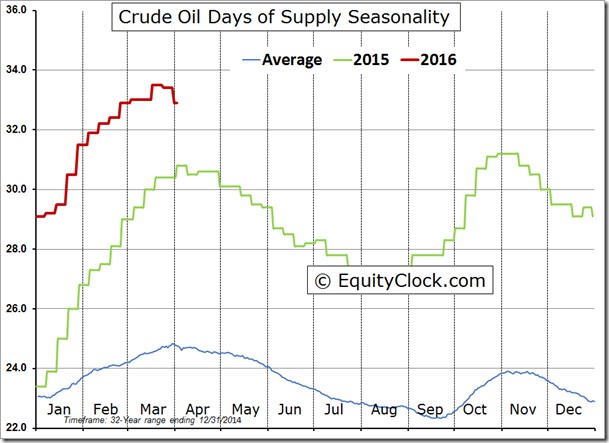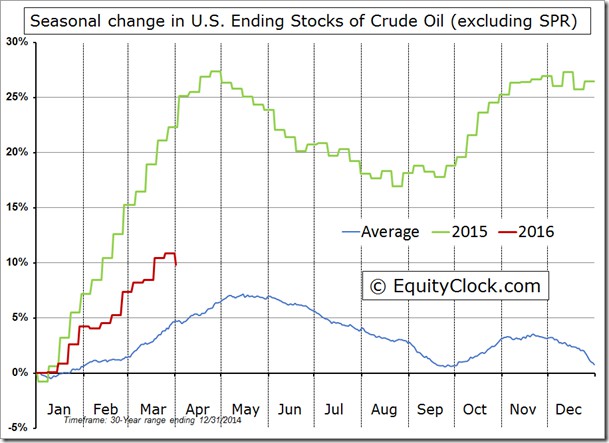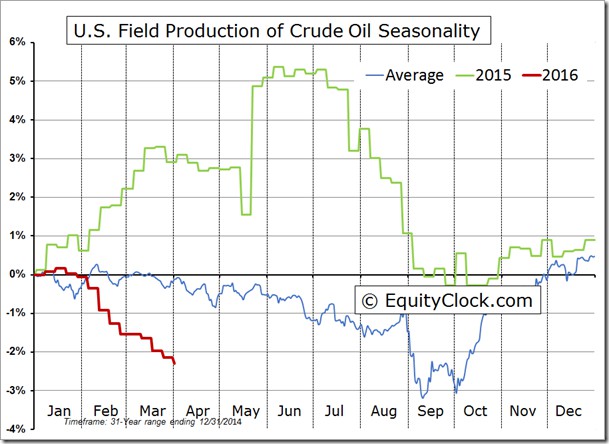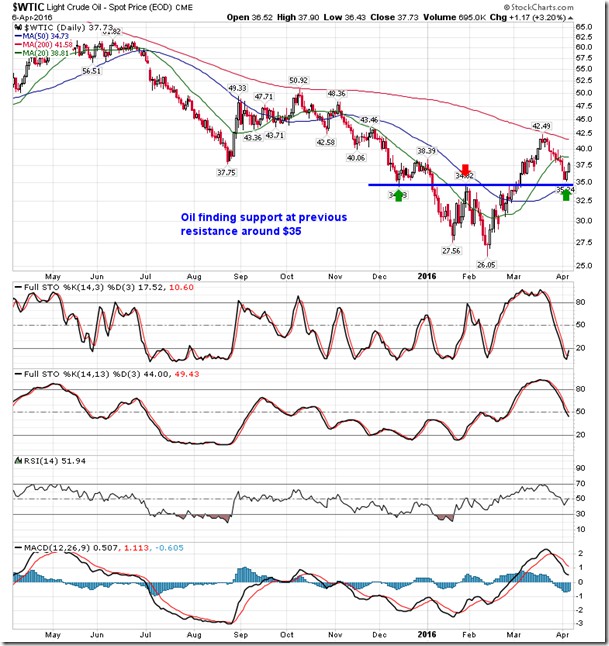 What was oil's benefit was gasoline's detriment as an uptick in production drawing on the raw input allowed for an increase in inventories for the finished product.  Gasoline inventories rose by 1.4 million barrels, causing a rather abnormal uptick in the days of supply to 26.1.  This trend may continue through the week ahead as an unexpected patch of cold weather to start the spring has hit the US Northeast, potentially impacting demand pressures related to automobile consumption.  The rate of change of gasoline stocks continues to hover around 3.8% above average, despite the supply/demand fundamentals, as implied by the days of supply, remaining relatively inline with the average trend.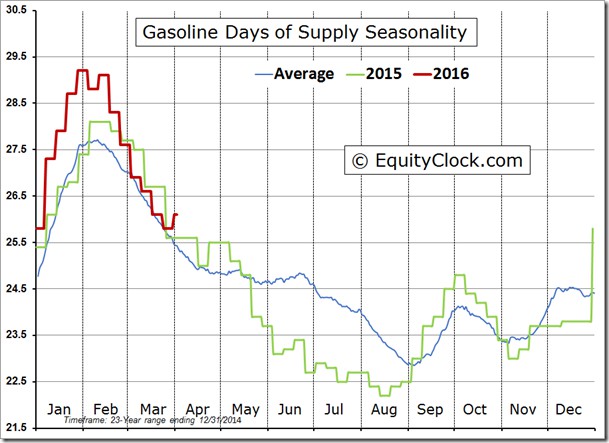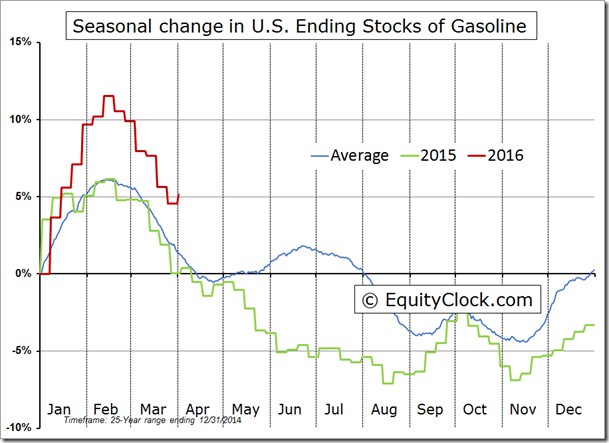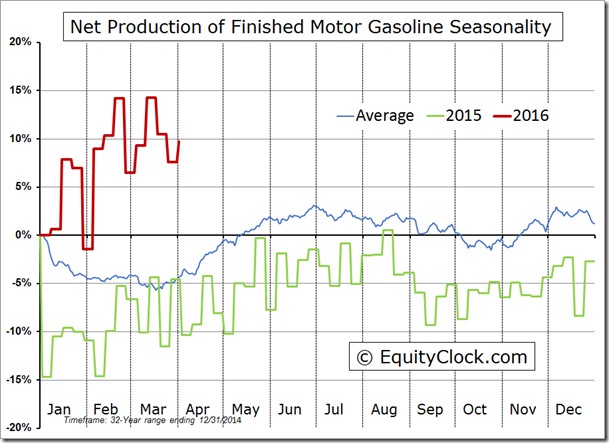 Sentiment on Wednesday, as gauged by the put-call ratio, ended close to neutral at 0.99.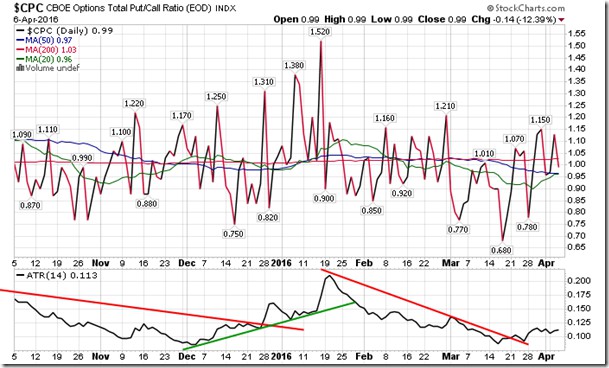 Seasonal charts of companies reporting earnings today:
S&P 500 Index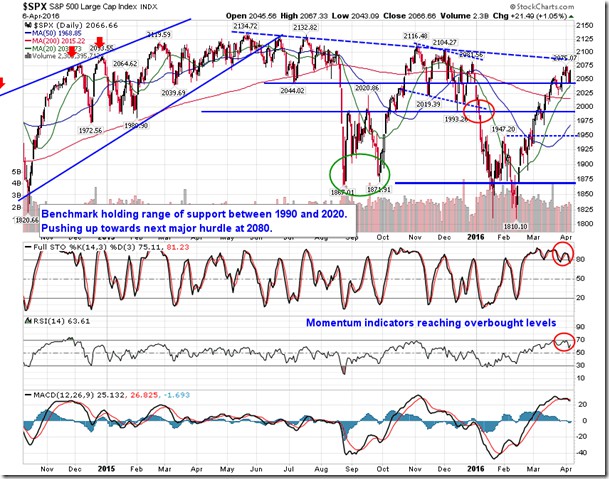 TSE Composite