A few days ago, I saw an article on BBC saying that Apple is going to launch peer-to-peer money transfer. The first thing I thought about was the competitors: there are lots of mobile payment processing companies all over the world. First of all this announcement had an impact on PayPal stocks - down 2%. One more interesting fact is that everybody was talking about the Venmo subsidiary of Paypal - the company processed more than $2.4B in payments. 
Right now, I would like to pay your attention to another company that provides payment solutions worldwide - Xoom. As of November 12, 2015, Xoom Corporation operates as a subsidiary of PayPal - and this is the first interesting fact. PayPal stock, as I have already told, decreased after the Apple's announcement. 
<!== INSTRUMENT %% %480% ==!>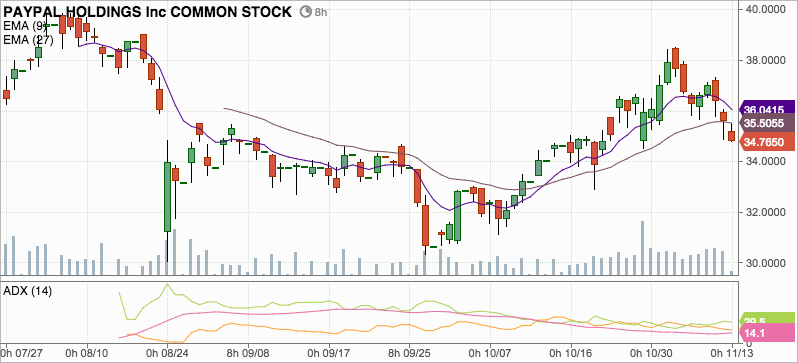 Xoom Corporation provides digital consumer-to-consumer online money transfers services worldwide. The second interesting fact is that the company provides the payment services not only within the United States, but all over the world. The company covers most of the developed and emerging markets. Since it was announced that Xoom is a part of PayPal, stocks grew up more than 25%. However, the trading volume over the last several months dropped down significantly, because the company will be delisted as soon as the deal will be closed.
<!== INSTRUMENT %% %480% ==!>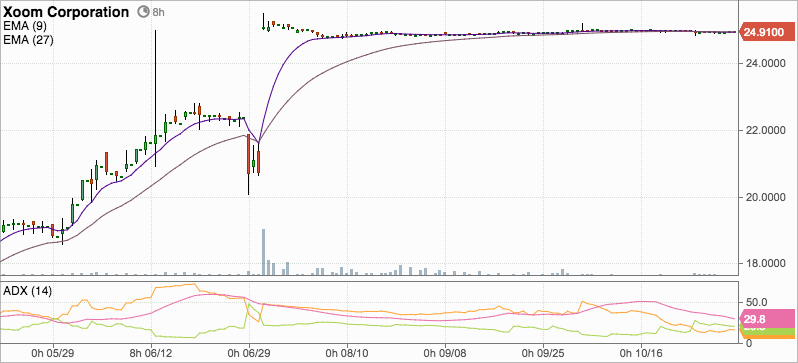 Potentially, Apple will compete with local payment providers. Xoom is an international one, so it will take several years for Apple to get an access to all the countries which Xoom covers. I reviewed the operating and financial metrics of the company and got the following results:
Gross sending volume is increasing - $5.3B (9 months of 2015) vs $5.1B (9 months of 2014). As you can see, it much higher than Venmo has - Apple's direct competitor;
Revenue is growing as well, however, the effective rate is going down. Revenue grew up from $115M (9 months of 2014) to $133M (9 months of 2015). An effective rate (relation between revenue and gross sending volume) decreased from 9.43% to 9.04%. I don't think that this is a significant decline, this is mostly the reason of gross sending volume growth;
GSV per active customer decreased from $4,175 to $3,616 for 9 months ended in September 2014 and 2015 - that's not a good sign, however, this figure is still very high;
Marketing expenses grew up from 20.25% of revenue as of September 2014 to 22.85% as of September 2015;
Technology costs grew up as well from 23.15% as of September 2014 to 26.26% as of September 2015.
I do like the company, the way of its development and so on. Xoom can become the key company for PayPal in terms of peer-to-peer money transfer on the international market. It was a good decision to acquire the company for more than $1B compensation. 
What do you think about the peer-to-peer payment solutions? What do you think about PayPal stocks?