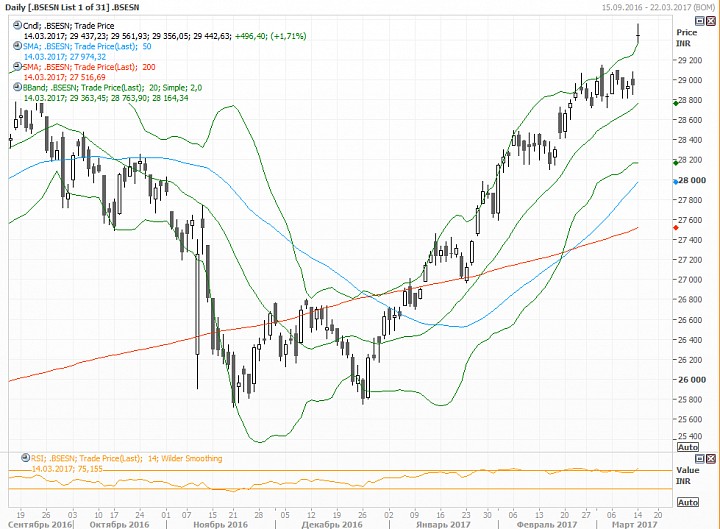 The Indian stock market showed strong performance on Tuesday, March 14 on the back of state legislative election results. Upbeat sentiment was sparked by the victory of Prime Minister Narendra Modi's Bharatiya Janata Party (BJP) in Uttar Pradesh, one of the country's largest states, thus raising the odds of his re-election in 2019. To recap, Narendra Modi is expected to implement an economic program that includes reforms in the financial services and retail sectors as well as measures designed to ease the labor code.
As regards market-driving macro data, India's WPI climbed 6.55% y-o-y in February compared to a 5.25% y-o-y increase in the previous month.
Recapping the benchmarks, the Nifty 50 firmed 1.71% to 9,087.00, and the BSE Sensex also closed 1.71% higher at 29,442.63.
By 10:38 GMT, the USD/INR currency pair slipped 0.09% to 66.115, and EUR/INR was down 0.17% at 70.3360. The 10-year Indian government bond yield narrowed to 6.900%.
As for BSE components, healthcare, banking and financial, pharmaceutical stocks, automakers and capital goods producers stood out among the advancers, while telecom names underperformed the broader market.
On the NSE, the session's frontrunners included ICICI Bank, Ultratech Cement and Yes Bank, which surged 6.17%, 3.8% and 3.4%, respectively. In the bear camp, Bharti Airtel and Idea Cellular shed 0.95% and 1.25%.
In the energy sector, CG Power, Adani Power and Reliance Infra saw their shares rise 3.5%, 3.13% and 1.52%, respectively.
Meanwhile, IT players Aptech, Ramco Systems and Quick Heal advanced 2.47%, 1.8% and 0.89%, respectively.
As the daily chart below shows, the BSE The Sensex has broken out of the upper Bollinger band, while the RSI has entered overbought territory, meaning that the benchmark is likely to take a breather after a bull run.