Last week, Latin American carriers — GOL Linhas GOL and Copa Holdings CPA — reported better-than-expected earnings per share and revenues for the third quarter of 2017. This outperformance was attributed to improvement in the Latin American economy. The results were also aided by strong demand for air travel.
On the non-earnings front, the major airline players like United Continental Holdings UAL, Southwest Airlines LUV, Spirit Airlines SAVE and JetBlue Airways Corp. JBLU revealed their respective October traffic numbers in the previous week. While load factor (percentage of seats filled by passengers) declined at JetBlue and United Continental due to capacity overexpansion, the metric improved at Spirit Airlines and Southwest Airlines as capacity expansion was outweighed by traffic growth in the same month.
Alaska Air Group's ALK decision to end flights to Cuba also invited attraction. On the price front, the NYSE ARCA Airline Index was almost flat at $104.98 over the last five trading days.
Transportation - Airline Industry 5YR % Return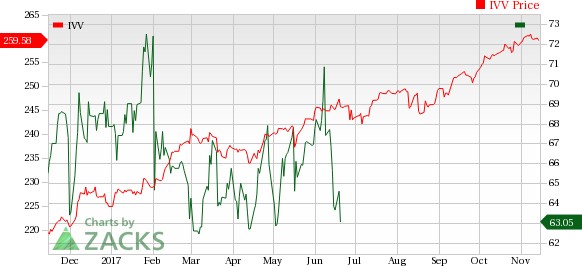 (Read the last Airline Stock Roundup for Nov 08, 2017).
Recap of the Past Week's Most Important Stories
1. GOL Linhas' earnings per share of $1.49 outpaced the Zacks Consensus Estimate of 47 cents, aided by higher revenues. In the year-ago quarter, this Latin-American carrier had reported breakeven earnings. Net sales, comprising of cargo and passenger revenues, came in at $858.8 million (R$2.7 billion) surpassing the Zacks Consensus Estimate of $783.3 million.
The top line expanded 13.2% on a year-over-year basis on the back of strong demand for air travel. Additionally, it provided an upbeat outlook for 2017 (read more: GOL Linhas Beats on Q3 Earnings & Revenues, Stock Up).
2. Copa Holdings' third-quarter earnings (on an adjusted basis) of $2.38 per share beat the Zacks Consensus Estimate of $2.16. The bottom line came in ahead of the year-ago figure of $1.30 per share. Quarterly revenues improved 15.6% on a year-over-year basis to $657 million and also topped the consensus mark of $633 million.
The year-over-year increase in the top line was primarily due to a 16.5% improvement in passenger revenues. While passenger unit revenue per available seat mile (PRASM) improved 3.1%, yield per passenger mile advanced 1.3%. Unit revenue per available seat mile (RASM) improved 2.4%. Operating cost per available seat mile, excluding fuel, declined 1.2% in the quarter.
Passenger traffic (on a consolidated basis) rose 14.9% and capacity was up 13% in the same quarter. Load factor expanded 150 basis points (bps) to 85.7% as traffic growth outweighed capacity expansion of this Zacks Rank #3 (Hold) company. You can see the complete list of today's Zacks #1 Rank (Strong Buy) stocks here.
3. Alaska Air Group was the latest U.S.-based carrier to terminate its operations to Cuba. The carrier will operate its last Los Angeles-Havana flight on Jan 22, 2018. The tweaked Cuba policy announced by President Trump earlier this month might also have played a part in Alaska Air's decision. The new policy prohibits individual travel to the island nation among other things.
Meanwhile, the likes of American Airlines Group AAL and JetBlue Airways have already trimmed their services to the nation. Also, lower-than-expected demand caused the likes of Frontier Airlines and Spirit Airlines to terminate their flights to Cuba.
4. At Spirit Airlines, traffic — measured in revenue passenger miles (RPMs) — came in at 2.1 billion, up 21.6% on a year-over-year basis. Consolidated capacity (or available seat miles/ASMs) also expanded 21.2% to 2.53 billion.
Load factor increased to 83.2% from 82.9% recorded in October 2016. The improvement was owing to traffic growth outpacing capacity expansion for the same month (read more: Spirit Airlines' October Traffic and Load Factor Increase).
5. While revealing its October traffic data, United Continental reiterated its fourth quarter guidance for passenger unit revenues. The metric is still expected to decline in the band of 1% to 3% on a year-over-year basis. The carrier suffered a decline in load factor for the month as capacity expansion outpaced traffic growth (read more: United Continental's October Traffic Up, Load Factor Down).
6. JetBlue Airways reported a 3.7% increase in October traffic. Load factor decreased in the month as traffic growth was outpaced by capacity expansion (6.8%). The low-cost carrier still expects RASM for the fourth quarter of 2017 in the range of a decline of 3% to flat year over year (read more: JetBlue Airways' October Traffic Rises, Load Factor Falls).
7. October traffic at Southwest Airlines improved 1.9%, while capacity expanded 1.7%. Load factor increased 10 basis points to 85.8% in the same month. On a year-to-date basis, Southwest Airlines witnessed a 3.5% rise in RPMs. Also, ASMs grew 3.9%. As a result, the load factor decreased 30 basis points to 83.8%.
Performance
The following table shows the price movement of the major airline players over the past week and during the last six months.
| | | |
| --- | --- | --- |
| Company | Past Week | Last 6 months |
| HA | 9% | -31.5% |
| UAL | -4.1% | -25.1% |
| GOL | -4.3% | 17.7% |
| DAL | -3% | -0.2% |
| JBLU | 2.3% | -7.5% |
| AAL | -3.5% | -0.04% |
| SAVE | 0.4% | 35.2% |
| LUV | -0.7% | -6.1% |
| CPA | -0.2% | 2.7% |
| ALK | -3.1% | -26.1% |
The table above shows that most airline stocks traded in the red over the past week. However, Hawaiian Holdings' impressive gains contributed to the NYSE ARCA Airline Index remaining almost flat. Over the course of six months, the sector tracker decreased 7.6% with most stocks shedding value due to the multiple headwinds facing the sector.
What's Next in the Airline Space?
With the earnings season over, stay tuned for the usual news updates in the space.
The Hottest Tech Mega-Trend of All
Last year, it generated $8 billion in global revenues. By 2020, it's predicted to blast through the roof to $47 billion. Famed investor Mark Cuban says it will produce "the world's first trillionaires," but that should still leave plenty of money for regular investors who make the right trades early.
See Zacks' 3 Best Stocks to Play This Trend >>
Want the latest recommendations from Zacks Investment Research? Today, you can download 7 Best Stocks for the Next 30 Days.
Click to get this free report
Southwest Airlines Company (LUV): Free Stock Analysis Report
JetBlue Airways Corporation (JBLU): Free Stock Analysis Report
Gol Linhas Aereas Inteligentes S.A. (GOL): Free Stock Analysis Report
United Continental Holdings, Inc. (UAL): Free Stock Analysis Report
Copa Holdings, S.A. (CPA): Free Stock Analysis Report
Spirit Airlines, Inc. (SAVE): Free Stock Analysis Report
American Airlines Group, Inc. (AAL): Free Stock Analysis Report
Alaska Air Group, Inc. (ALK): Free Stock Analysis Report
To read this article on Zacks.com click here.
Zacks Investment Research