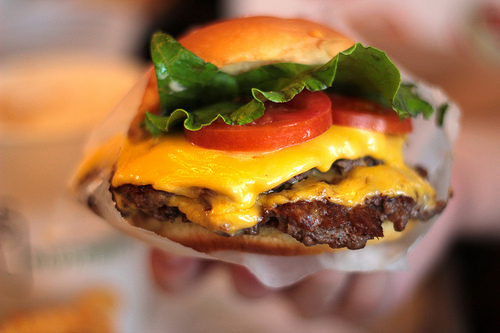 Shake Shack (NYSE: SHAK) soared Friday, up 13%, hitting the close high at $55.14. However, things aren't looking so hot for the fast causal stock today, which opened at $53.78 and is currently trading at $49.70.
The chain now operates 71 total locations, with 21 in the United States and 20 internationally. According to 24-7 Wall Street, the Shack beat analyst's Q2 earnings estimations, touting $0.09 earnings per share, with only $0.03 in estimates.
Accoridng to analysts, these numbers amount for a good future performance outlook.
Same Strategy, New Items
Also on Friday, the booming brand announced a new, uber-exclusive menu item only available in its Atlanta, Georgia location for a limited time. The "Carpetbagger Burger," consisting of two beef patties, onions, cheese and topped with a fried oyster, will only be offered in 200 orders, and then it's sayonara.
Although touted as a new menu item, this marketing strategy is nothing new for New York's most famous "shack." One of the keys to the chain's success is its exclusivity factor.
For example, the Carpetbagger burger will only be available for a limited time and only in one location, leaving wanting customers to flock to the restaurant in order to get their hands on the hottest sandwich.
Shake Shack has accomplished this strategic marketing in other demographics of the United States as well, offering a lobster burger in New England and a fried chicken sandwich in Brooklyn.
As the saying goes: "If it ain't broke don't fix it."
For more business and financial news, click here.