InvestorPlace - Stock Market News, Stock Advice & Trading Tips
The AdvisorShares New Tech and Media ETF (NYSEARCA: FNG ) recently debuted as an actively managed equity fund, and is a clear sign that we've hit peak "FANG."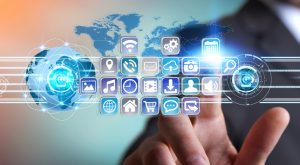 Source: Shutterstock
The acronym used to describe a handful of high-growth stocks including Facebook Inc (NASDAQ: FB ), Amazon.com, Inc. (NASDAQ: AMZN ), Netflix, Inc. (NASDAQ: NFLX ) and Google parent Alphabet Inc (NASDAQ: GOOGL ). It's a way for market watchers and CNBC aficionados to easily reference these big winners without overtaxing their jaw muscles.
All four of these household names have gained more than 30% over the last 52-weeks. Their momentum has become so unstoppable that someone felt it would be a good idea to create an ETF geared specifically toward this theme.
The AdvisorShares New Tech and Media ETF adopts an aggressive growth strategy in the tech space, heavily concentrated in a portfolio of 28 stocks that were selected and weighted by Sabretooth Advisors, LLC. The original FANG stocks are all represented near the top of the group, with several other strong contenders like NvidiaCorporation (NASDAQ: NVDA ) and Alibaba Group Holding Ltd (NYSE: BABA ) rounding out the leaders.
The marketing material surrounding FNG is heavily influenced by words like innovation, leadership, disruption and flexibility. All phrases have likely been used in one form or another to describe the business models of its holdings. You won't find any beaten-down value plays with 100-year track records in here.
FNG has an instant edge in that its portfolio comes out of the gates with some of the...
More