Many years ago, we said that the real comedy in the world of FX won't start until Vietnam start devaluing its currency. And even as Vietnam decided to slash its Dong on numerous occasions over the years...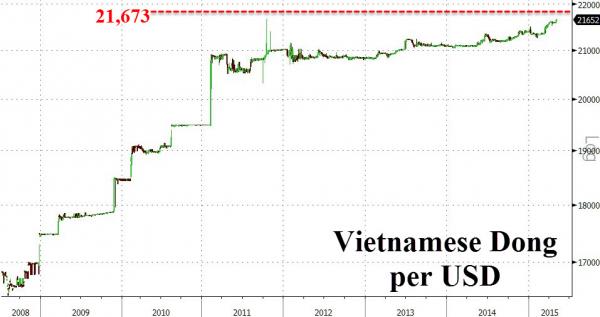 ... we were looking forward to all the amusement the Asian country, once engaged in physical war with the US would provide us in its response to the just launched FX war with China, in order to preserve its currency's ongoing shrinkage.
We got the answer overnight when Vietnam announced it would widen the dong's trading band on Wednesday to further weaken the Dong in response to the comparable shrinkage by China, its biggest trading partner.
The immediate result: the latest dong prolapse, which shrank just as expected as part of its entry in the currency war launched by China earlier this week.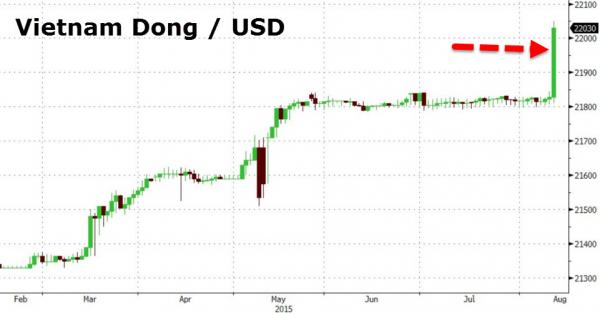 The newly lubricated dong can therefore now slide as much as 2% on either side of the fixing channel, up from 1 percent previously, the central bank said in a statement. And while under similar circumstances comparably named instruments, either monetary or anatomical, seek expansion, the Vietnamese monetary unit promptly weakened 1% to 22,040 a dollar as of 2:16 p.m. in Hanoi.
This is neither the first nor last time Vietnam has devaluing: as Bloomberg reminds us, the move follows two devaluations of the dong, by 1 percent each, in January and May. The action today is "to help the dong be more flexible" and maintain competitiveness'' of Vietnamese products, as the yuan devaluation will have a negative economic impact, the State Bank of Vietnam said. Export growth slowed to 9.5 percent in the first seven months of 2015, compared with 14.1 percent in the year-earlier period.
"This is very timely policy action. The move today would help promote exports," Alan Pham, chief economist at VinaCapital Group, Vietnam's biggest fund manager, said by phone from Ho Chi Minh City. "Vietnamese exports have been under great pressure from the U.S. and EU markets."
And now they are under great pressure from Chinese markets as well, but at least the dong action wasn't premature.
Widening the band is "a natural move for Vietnam," said Attila Vajda, managing director at Project Asia Research, a Singapore-based advisory firm. "Its economy is dependent on exports and pegging its currency to a strong dollar leads to a loss of competitiveness."
And if a wider swinging dong is not enough, there is always cold liquidity in the form of monetization, to precipitate even more shrinkage if the need arises.